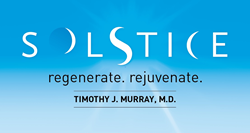 The doctor of the future will no longer treat the human frame with drugs but rather will cure and prevent disease with nutrition.
Oconomowoc, WI (PRWEB) April 11, 2014
Solstice is proud to be the first independent physician clinic in the state of Wisconsin to provide this state of the art medically supervised weight loss program. Ideal Protein is a 4-Phase eating modification plan and treatment developed to stabilize the pancreas and blood sugar levels while burning fat and maintaining muscle mass and other lean tissue; NOT a high protein regimen. This 4-Phase plan is for long-term health promotion and weight control, not a "diet" that leaves patients stranded after their weight has been lost without the knowledge of how to keep it off.
This program targets prevention and solutions for Syndrome X, also known as "Metabolic Syndrome". Patients who suffer from only two of the following components have Syndrome X:
-obesity
-blood sugar issues (diabetes)
-cholesterol problems
-high blood pressure
These disease processes are often able to be corrected with weight loss and restoring pancreatic function to normal levels. Ideal Protein is only available through health care professionals and Solstice is able to work directly with patients for medication management or provide coordination with primary physicians. Specially trained and licensed coaches are there to help achieve success for even the most frustrated dieter who has "tried everything".
The typical American diet consists of processed foods and refined sugar products that overwork and cause undue stress on the pancreas. These carbohydrates are converted to sugar and either burned for energy or stored in the form of fat. Insulin is the "fat storage hormone" produced by the pancreas. The pancreas is overworked and dysfunctional as a result of consuming an average of 150-200 pounds of sugar per year compared to 5 pounds of sugar per year back in 1905. This has led to our current epidemic of 67% of Americans either overweight or obese. A dysfunctional pancreas produces too much insulin which leads to low blood sugar and then leads to more sugar cravings creating a false hunger and binge eating or snacking (often on the wrong foods).
The body gets its fuel or energy from three sources: 1) carbohydrates, 2) protein, and 3) fat. Carbohydrates (glycogen) are used first, followed by protein and lastly fat reserves. This is the reason why people become frustrated and find it so difficult or impossible to eliminate fat stores by exercising and eating a "balanced" diet. After approximately 2-3 days on the Ideal Protein Protocol, glycogen reserves are depleted and the body begins burning and utilizing stored fat as energy (ketosis). Weight (fat) loss begins in week 1 while nourishing the muscles with natural and organic, high biological value Ideal Protein foods. During this time, the pancreas is allowed to rest and "reset" so upon returning to normal balanced eating, the pancreas will be able to work efficiently and avoid storing calories in the form of fat.
What to Expect:
-Quick weight loss without sacrificing muscle mass (3-7 pounds per week)
-Gaining an understanding of how food affects and are utilized by the body, including what causes fat storage
-Utilization of fat for energy in week 1 – fat (including cellulite) that sequesters chemical toxins
-Improved energy and appetite control and reduced cravings typically by day 4
-Dramatically improved and often corrected blood sugar, cholesterol levels, and blood pressure
-Rapid achievement of ideal weight
-Ability to maintain ideal weight with longevity
This is a natural, organic, and effective weight loss method with long lasting results. This protocol was originally designed for and utilized by the French Olympic team to secure muscle mass and regulate insulin levels and is doctor developed and recommended.
Schedule your life changing appointment today and allow Solstice to guide you on your journey to optimal health.
SOLSTICE is dedicated to providing transparent healthcare and wellness options along with cutting-edge regenerative, cosmetic, and pain therapies and procedures. As an independent and non-insurance based clinic, Solstice is able to provide the best and most cost-effective Direct Care to patients. Founder and CEO, Timothy J. Murray, M.D., is a Board Certified physician committed to transparency in healthcare along with truly effective Preventive Medicine measures to establish long term, sustainable health. To learn more, visit solsticewi.com.