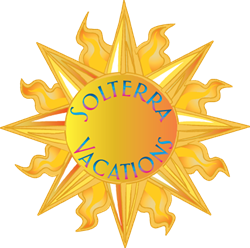 Los Angeles, CA (PRWEB) August 19, 2013
SolTerra Vacations understands that travelers enjoy relaxing when taking vacations. However, there are criminals out there who like to target unaware seniors and try to scam them. As a leading vacations club, SolTerra Vacations is providing travelers with tips and tricks on how to identify and avoid some of the more frequent travel scams that face seniors.
Increasingly widespread scams that many travelers might run into are fake phone calls from scam artists posing as travel agents or resort staff. These scam artists will try to gather financial information from an unaware traveler and then try to get into that person's bank accounts. The criminal will typically hurriedly pressure the person into giving up the information without allowing the victim to think straight. This is a very unsafe scam, as it is difficult to track the culprit, and once the information has been revealed, it can be difficult to know just how much the criminal will have access to. SolTerra Vacations advises travelers to be aware of such scams, and to immediately end the call if a scam is suspected.
SolTerra Vacations is also advising seniors to be further aware when out in big crowds, and during outdoor events. Places like markets and music festivals are prime locations for pickpockets to lurk around. These thieves rely on a diversion to engross the victim and make them unaware that someone is reaching into their belongings.
When visiting busy areas, SolTerra Vacations recommends that women hold their purses in front of them at all times. Also, wearing lots of flashy jewelry is just making it easier for the pickpockets to identify the victim. Men should keep wallets in front pockets, instead of back pockets, as this makes it harder for a pickpocket to slip them out unnoticed. The best way to avoid having things stolen is to simply refrain from bringing valuables unless they absolutely need to be brought along.
A final bit of advice that SolTerra Vacations has for seniors on vacation involves their luggage and personal belongings. Item theft is the most common travel fear. Always keep items within reach, at all times. A great suggestion is to ask oneself if the item being packed is something that will be absolutely necessary to the vacation. The less that is packed, the less chance of something being stolen or lost. Never leave items unattended at airports, restaurants, or anywhere else. It is far too easy for a thief to disappear into a crowd with stolen items, never to be seen again.