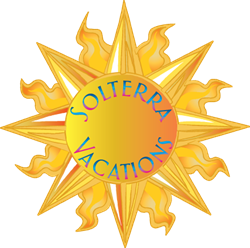 Las Vegas, Nevada (PRWEB) September 09, 2013
SolTerra Vacations is a travel industry leader and, with its affiliates, has made innumerable vacation dreams a reality. By giving their members award-winning service they have solidified themselves as a top vacations discount provider. With over 100,000 members as of 2013, SolTerra Vacations has assisted hundreds of thousands of members prepare their vacations by giving unparalleled resort discounts. Members quickly see the benefits of enrolling in membership.
SolTerra Vacations has been an industry leader for so long because their worldwide member base knows that SolTerra Vacations is dedicated to living up to their standard of being the very highest of quality. Devoted to value and customer service, SolTerra Vacations has made sure that membership is full of a vast amount of benefits. With thousands of condos up to 75% off, well over 200,000 resorts up to 65% off in price, discount cruises up to 50% off, and up to 50% off on attractions, tours, golfing, camping, snowboarding, and skiing, membership with SolTerra Vacations is unrivaled.
Some additional benefits that SolTerra Vacations offer members are 24-hour support services, consumer discounts, discounted car rentals, and weekly member-exclusive newsletters full of additional specials and discounts.
SolTerra Vacations uses proven resources and experienced management to get their members the type of service they have come to anticipate. In the travel industry, SolTerra Vacations is a brand unrivaled when it comes to innovation and quality. From resort fulfillment to rate negotiations, SolTerra Vacations is continually raising the bar for industry standards. Vacation fulfillment is conducted by certified industry specialists and professionals.
Join SolTerra Vacations today and discover why so many members are calling them the industry leader.
********
SolTerra Vacations
877-309-3047
http://solterravacations.com/