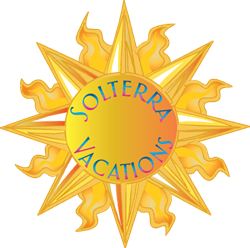 Miami, FL (PRWEB) January 27, 2014
Solterra Vacations strives to provide its members with vacation experiences to top destinations in the world. Solterra continuously asks its members for feedback on where they would like to go when they take a vacation, and uses these responses to provide getaway deals where members desire to travel to most. In a recent survey of top North American skiing destinations, Aspen, Park City and Whistler were clear favorites among Solterra Vacations' valued members.
1. Aspen, Colorado
Solterra Vacations knows that the stunningly beautiful ski destination of Aspen, Colorado is a longtime member favorite. This jewel of the Rockies is widely regarded as one of the most beautiful mountain towns in North America. Aspen blends world-class skiing with an unparalleled cultural experience. The months of January to March are perfect for skiing, and boast an incredible 15 inches of snow on average. Aspen sits at a towering elevation of 4,317 meters, and offers four thrilling options for skiing here. They are as follows: Buttermilk, Snowmass, Aspen Highlands, and Aspen Mountain. Snowmass seems to be a favorite option among members due to its massive size and the staggering 21 lifts that it contains.
2. Park City, Utah
Solterra Vacations members also listed Park City, Utah, as a prime skiing destination. It is conveniently located just 20 miles from Salt Lake City, but is a favorite of members all over the country. Park City is known for having extremely popular ski resorts that were utilized for the skiing and snowboarding events at the 2002 winter Olympics. The skiing in Park City is so pristine that the United States ski team often uses it as their training destination.
3. Whistler, British Columbia, Canada
Solterra Vacations members often travel to Canada, where they find one of the most famous ski playgrounds in North America. Whistler boasts over 8,100 acres of pristine, snow-capped slopes. This famous town has courses and slopes of varying difficulties for both experts and beginners alike. It is a member favorite for its extraordinary size, its breathtaking beauty, and its reputation as a spectacular playground for skiers and snowboarders of all ages.
Solterra Vacations members have an eye for choosing the most adventurous ski destinations in the world. The list includes destinations with towering mountains, epic beauty, and innumerable ski slopes. For more information about these prime skiing destinations and how to book an incredible vacation, contact Solterra Vacations today.
SolTerra Vacations
877-309-3047
http://solterravacations.com/
*******
Press release distributed by JW Maxx Solutions, a leader in online reputation management and a part of a family of companies that includes Prensa Ahora and Enterate Ahora.