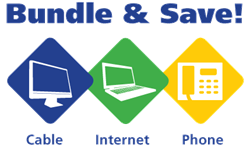 SolveForce Now Offers Cable TV Bundles throughout Gwinnett, Cobb & Fulton County Georgia
Fulton County, Georgia (PRWEB) April 06, 2016
SolveForce.com will be making another bold move to offer Cable TV Bundle (http://www.solveforce.com/) services in Gwinnett, Cobb & Fulton Counties effective immediately.
Bundling is hardly unique to the entertainment industry, nor is it solely an American phenomenon. There's a reason for this: Bundling benefits consumers and vendors in more ways than one.
Bundles exist and are popular with consumers across a range of goods and services: Computer software, automobile trim and option packages, restaurant meals, gym memberships, even amusement park tickets. And despite all the furor over cable tv bundles (http://www.solveforce.com/services), non-TV programming often is bundled too: NBA League Pass, Netflix, Hulu, even Sirius radio subscriptions require consumers to pay a flat rate for a package that may include programs they don't want.
Do your homework
Explore all avenues to determine the best deals offered by all carriers. Be sure to compare total costs, including hardware and any activation fees. Ask others what they're paying, check ads and websites, and call companies, perhaps a few times.
To learn more about SolveForce's Cable TV Bundles (http://www.solveforce.com/geogia/), visit SolveForce.com.
About SolveForce
We are committed to your company in every aspect of the customer relationship. If your company needs to contact us for any reason, please don't hesitate to call or email us at the earliest convenience.
By Phone: (888) 765-8301
By Email: ron(at)SolveForce(dot)com
By Website: http://www.solveforce.com