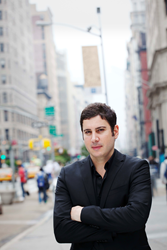 SOMA Principal Michel Abboud Joins Developer Omniyat in Dubai To Present One at Palm Jumeirah
NEW YORK, NY (PRWEB) September 19, 2014
International architecture firm SOMA announced today that Principal Michel Abboud will join Dubai-based developer Omniyat to unveil the highly anticipated design for One at Palm Jumeirah in conjunction with the Cityscape Global 2014 Conference in the United Arab Emirates. Mr. Abboud and Omniyat will reveal the design on September 21, 2014 at the Dubai World Trade Centre.
Mr. Abboud won the assignment of designing the residential tower—the most expensive, luxurious and amenity laden in the emirate—after taking part in an international design competition that pitted SOMA against such prestigious architecture firms as Rem Koolhaas's OMA, Ben van Berkel and Caroline Bos's UNStudio and Plantec Architects.
"It was an honor to have SOMA's design for One at Palm chosen from among such an impressive competitive field of our peers," Mr. Abboud said. "I can't wait to stand with my client Omniyat and reveal the design at Cityscape Global. It reflects the SOMA vision and will create a residential experience that is unparalleled, with luscious outdoor space for residents and amenities that surpass those found at five star resorts."
One at Palm will rise at the entrance to Palm Jumeirah, the smallest of Dubai's three artificial archipelagos. It will consist of 90 exclusive residences, ranging in size from 2,700 to 20,000 square feet. Additional design details will be revealed September 21st. The residences will offer expansive views of the Persian Gulf and the Dubai cityscape.
In addition to SOMA, One at Palm is being created by an international team of cutting edge tastemakers. Developer Omniyat sought the most prominent players in each design discipline, and selected SOMA as architect, world famous Vladimir Djorovic as landscape architect, and Japanese firm Superpotato, famous for their work at Zuma in London, for interiors.
"We are proud to be a member of an international 'dream team' in the creation of One at Palm," Mr. Abboud said.
About SOMA
International architecture firm SOMA, headquartered in New York, was founded in 2004 by Michel Abboud. With its focus on incorporating craft, digital technologies and environmental responsibility, the firm's designs and work have attracted critical acclaim for their boundary pushing nature. SOMA's work is rising around the world today—in New York, Dubai, Lebanon and other international markets—with remarkable offerings of luxury hotel, condominium and mixed-use developments that underscore the firm's cutting edge appeal.
Company Name: SOMA
Company Location: 31 W 27TH ST, NEW YORK, NY 10001
Tel: (212) 966-1200
Company Website: http://soma.me
Roxanne Donovan (Roxanne(at)greatink(dot)com)
Carl Gaines (Carl(at)greatink(dot)com)
Alycia Randise (Alycia(at)greatink(dot)com)