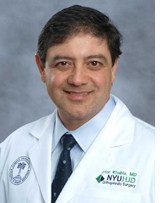 It isn't always possible for athletes to avoid the sudden moves that might trigger an Achilles tendon tear," says Dr. Khabie, "but there are common-sense precautions that can reduce the risk.
Carmel, NY (PRWEB) August 15, 2013
Millions of basketball fans watching the Los Angeles Lakers play the Golden State Warriors at the end of the 2013 regular season in April saw Lakers star Kobe Bryant drive to his left against an opponent and go down in his tracks. Bryant underwent surgery the next day for a ruptured Achilles tendon, an injury that will keep him off the court for six to nine months. "Both amateur and professional athletes suffer ruptured, or torn, Achilles tendons," says sports medicine specialist Dr. Victor Khabie of Somers Orthopaedic Surgery & Sports Medicine Group. "While you might tear your Achilles tendon while walking or stepping in a hole, it is an injury that is most common in explosive sports that involve lots of running and jumping and especially sudden starts, stops and changes of direction at speed. Basketball, tennis, soccer and rugby players are particularly vulnerable. And while a ruptured Achilles tendon occurs suddenly, there are underlying factors that you can focus on to reduce your risk."
The Achilles tendon, the largest and strongest tendon in the body, is a strong fibrous cord that connects the muscles in the back of the calf to the heel bone. It enables pointing the foot downward, rising on the toes and pushing off the foot when walking. When it is overstretched, it can tear, either partially or completely. Dr. Khabie explains: "If you think of the Achilles tendon as a rubber band, a partial tear causes a nick in the rubber band but it is otherwise intact. In a complete tear, the band snaps in two." Tears generally occur in the area about 2½ inches above the point where the tendon meets the heel bone, possibly because this section has less blood supply than other parts of the tendon.
Risk Factors
A male athlete over the age of 30 is most likely to suffer an Achilles tendon rupture. The injury occurs five times more often in men than in women and most often between the ages of 30 and 40. It is uncommon in children and teenagers. Steroidal injections can weaken the tendon and increase the risk of injury as can certain classes of antibiotics. Underlying problems with the tendon, such as weakness caused by previous injury can also increase the risk of rupture.
Tips for Prevention
"It isn't always possible for athletes to avoid the sudden moves that might trigger an Achilles tendon tear," says Dr. Khabie, "but there are common-sense precautions that can reduce the risk."

Achilles tendon injuries commonly occur when training is increased abruptly. Always raise the level of your physical activity gradually, increasing distance, frequency and duration no more than 10% a week.
Tight muscles and tendons are more likely to give way if over-stretched or under too much stress. Always stretch your leg muscles and Achilles tendon before and after exercise, more often if the muscles are very tight.
Mix up your training regimen. Alternate high-impact activity like running with lower-impact activity like cycling and swimming. Avoid running on hills, which places stress on the tendons.
Drink plenty of water throughout a game or match. Dehydration causes cramping and tightness in the calf muscles and tendon, which increases the risk of injury.
Wear shoes that fit properly and have good support.
Stop exercising if you feel tightness or pain in your heel or the back of your leg.
"If you sustain a complete rupture of your Achilles tendon, you might hear a popping or snapping noise followed immediately by sharp pain in the back of the ankle and the inability to put weight on the leg," says Dr. Khabie. "You should see a medical professional promptly to determine the severity of the injury and a treatment plan." Patients with partial tears may be able to avoid surgery but may need a boot or cast to keep the lower leg immobile for several weeks, followed by physical therapy to stretch and strengthen the muscles. A complete rupture more often requires surgery as soon as possible, also followed by physical therapy, but can be treated non-surgically in some cases.
"Recovery from an Achilles tendon tear varies for each individual, based on age, conditioning level and the severity of the injury," Dr. Khabie concludes. "But in most cases, a return to the playing field is unlikely before four to six months, even for professional athletes, who are generally in superb condition. Recreational athletes should do everything possible to improve their conditioning and reduce their risk of injury."
Victor Khabie, M.D., F.A.A.O.S., F.A.C.S. is a specialist in sports medicine, Dr. Khabie serves as team physician for several schools and professional athletes and is a ringside physician for the New York State Athletic Commission, caring for professional boxers. Somers Orthopaedic Surgery & Sports Medicine Group, PLLC, founded in 1988, is one of the most comprehensive and specialized practices in the region. http://www.somersortho.com