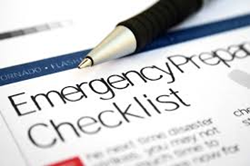 When it comes to preparedness, one of the most important things you can do is to put together a plan of action
Branchburg, NJ (PRWEB) September 30, 2015
"Don't Wait. Communicate. Make Your Emergency Plan Today," is the message emergency managers have been sharing with people all of the U.S. this month- National Preparedness Month. Somerville Aluminum encourages all area residents to take steps to make an emergency plan and know what to do during an emergency.

Know risks for where you live.
Meet with family or household members.
Discuss how to prepare and respond to emergencies that are most likely to happen at home or work.
Identify responsibilities for each household member and plan to work together as a team.
Have an individual and family preparedness plan in place.
Practice that plan
If a family member is in the military, plan how to respond if they were deployed.
Put together an emergency kit with water and non-perishable supplies to last for at least three days for all members of household and pets.
Keep an up-to-date contact list for people needing to reach out to during a disaster.
Establish alternative methods of communication in case traditional means are not available.
"When it comes to preparedness, one of the most important things you can do is to put together a plan of action. Whether hurricanes, snowstorms, power outages or flooding occur, having a plan in place can help increase your chance of surviving the chaos during a time of natural disaster," states David Gropper, co-owner of Somerville Aluminum.
Additionally, today is National PrepareAthon! Day. Families are encouraged to participate by doing a simple, specific action or activity to improve family and household preparedness; or it can be something more elaborate that involves a neighborhood plan, plans at places of worship, entire workplaces or communities.
Visit http://community.fema.gov for more information on America's PrepareAthon! Find tools to stage emergency preparedness drills, as well as register any preparedness activities for families and communities.
To mark the close of National Preparedness Month, Somerville Aluminum is offering 15% off ALL of its services during the month of October, to help central New Jersey residents with home remodeling and necessary home improvements to ensure their homes are safe and secure as it can be. For more information on this special offer, please visit http://www.somervillealuminum.com/latest-offers.
About Somerville Aluminum
Go with the Pro: Somerville Aluminum is the area's largest full service home remodeling company with an expansive showroom and design center in Branchburg. Staffed with on-site kitchen and bath designers and a team of home remodeling experts, Somerville Aluminum is ready to plan and guide central NJ homeowners through any home renovation project, big or small.
Media Contact:
Jodi Mayo Alessandri
MG Media, LLC
856 US Hwy 206, Suite B11
Hillsborough, NJ 08844
(908) 874-9200 x111