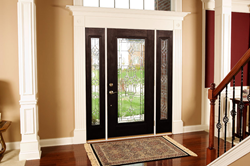 ProVia provides the best exterior doors on the market, which in turn allows us to fulfill our mission to provide only the best to our customers
Branchburg, NJ (PRWEB) March 31, 2015
For the fourth year in a row, Central NJ home remodeling contractor Somerville Aluminum has been named a Platinum Dealer by Ohio-based door manufacturer ProVia. This performance-based recognition programs honors those door replacement contractors who have demonstrated the highest level of commitment to selling and installing ProVia products.
"It is easy to stand behind products that we believe in. ProVia's craftsmanship is second to none with a product line to satisfy every style and budget- all backed by a lifetime warranty. ProVia provides the best exterior doors on the market, which in turn allows us to fulfill our mission to provide only the best to our customers," states Frank Herbert, Vice President of Production at Somerville Aluminum.
A ProVia Platinum Club Dealer designation means Somerville Aluminum has met stringent criteria to qualify, including having trained and certified installers on staff and has ProVia Studio visualizing software in their design studio. Somerville Aluminum has carried a line of ProVia exterior doors for close to 30 years and features an impressive display of entry doors in the company's Branchburg showroom.
"Somerville Aluminum has been a customer of ProVia's for many years. We enjoy having a strong partnership with them and are always encouraged by their enthusiasm and dedication to our products. Their new showroom is an outstanding example of their partnership and commitment to providing their customers with exceptional service. We congratulate them and wish them a prosperous year," adds ProVia Window & Door Brand Manager Wanda Angel.
About ProVia
Crafting the finest residential doors for over 35 years, ProVia offers a wide variety of replacement doors, including front doors, entry doors, exterior doors, patio doors and storm doors. ProVia doors are built to be energy efficient, beautiful and secure. Every steel or fiberglass door is foam-filled with thermally efficient material and contains the best weather seals on the market. ComfortTech™ glazing packages add outstanding energy efficiency to doors with glass, available in clear, decorative glass and Inspirations Art Glass.
About Somerville Aluminum
Go with the Pro: Somerville Aluminum is the area's largest full service home remodeling company with a 5,000 square foot showroom and design center in Branchburg staffed with on-site kitchen and bath designers and a team of home remodeling experts ready to plan and guide central NJ homeowners through any home renovation project, big or small. Built on three generations of reliability, integrity and experience, Somerville Aluminum has a solid reputation as a trusted source for any and all home remodeling needs.
Media Contact:
Jodi Mayo Alessandri
MG Media, LLC
856 US Hwy 206, Suite B11
Hillsborough, NJ 08844
(908) 874-9200 x111