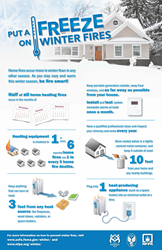 Home fires occur more in winter than any other season. As you stay cozy and warm this winter season, be fire smart!
Branchburg, NJ (PRWEB) January 22, 2015
With temperatures dipping close to zero degrees in central NJ this week and Jack Frost nipping at everyone's nose, NJ remodeling contractor Somerville Aluminum would like to remind homeowners in Somerset County and the surrounding area to be diligent about home heating and smoke alarm safety.
Home fires are the most common disaster the American Red Cross responds to, sending volunteers to the scene of fires at all hours of the day and night to help those affected. In 2013, one home structure fire was reported every 85 seconds, with home fires occurring most often in the winter season when people may use unsafe heat sources. With this in mind, Somerville Aluminum would like to provide the following safety tips:

Keep all potential sources of fuel like paper, clothing, bedding or rugs at least three feet away from space heaters, stoves, or fireplaces.
Portable heaters and fireplaces should never be left unattended. Turn off space heaters and make sure any embers in the fireplace are extinguished before going to bed or leaving home.
If you must use a space heater, place it on a level, hard and nonflammable surface (such as ceramic tile floor), not on rugs or carpets or near bedding or drapes. Keep children and pets away from space heaters.
When buying a space heater, look for models that shut off automatically if the heater falls over as another safety measure.
Never use a cooking range or oven to heat your home.
Keep fire in your fireplace by using a glass or metal fire screen large enough to catch sparks and rolling logs.
Have wood and coal stoves, fireplaces, chimneys, and furnaces professionally inspected and cleaned once a year.
Install smoke alarms on every level of your home, inside bedrooms and outside sleeping areas.
Teach your children what smoke alarms sound like and what to do when they hear one.
Once a month check whether each alarm in the home is working properly by pushing the test button.
Replace batteries in smoke alarms at least once a year. Immediately install a new battery if an alarm chirps, warning the battery is low.
Smoke alarms should be replaced every 10 years. Never disable smoke or carbon monoxide alarms.
Carbon monoxide alarms are not substitutes for smoke alarms. Know the difference between the sound of smoke alarms and carbon monoxide alarms.
As a tribute to bitter temperatures, slippery sidewalks and wicked wind-chills, Somerville Aluminum wants to turn up the heat with a special financing offer. For a limited time, Somerville Aluminum will provide 0% financing for 60-months on any home renovation project over $2,500.00. Offer is valid through February 28, 2015. For full details, please visit http://www.somervillealuminum.com/latest-offers/0-financing-60-months/
About Somerville Aluminum
Go with the Pro: Somerville Aluminum is the area's largest full service home remodeling company with a 5,000 square foot showroom and design center in Branchburg staffed with on-site kitchen and bath designers and a team of home remodeling experts ready to plan and guide central NJ homeowners through any home renovation project, big or small. Built on three generations of reliability, integrity and experience, Somerville Aluminum has a solid reputation as a trusted source for any and all home remodeling needs.
For more information, please visit their showroom at 20 County Line Road in Branchburg, visit http://www.somervillealuminum.com or call (800) 725-8401.
To download the US Fire Administration winter fire safety infographic, please visit: http://www.usfa.fema.gov/downloads/pdf/statistics/winter_infographic.pdf
To download Winter Safety Tips for the Home, please visit: http://www.usfa.fema.gov/downloads/pdf/publications/fa-249f.pdf
Media Contact:
Jodi Mayo Alessandri
MG Media, LLC
856 US Hwy 206, Suite B11
Hillsborough, NJ 08844
(908) 874-9200 x111
Sources:
US Fire Administration http://www.usfa.fema.gov
National Fire Protection Association http://www.NFPA.org