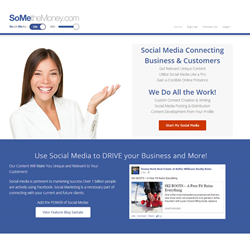 Using the SoMetheMoney.com method, our customers immediately begin to reduce the high costs of writing custom content
Boise, Idaho (PRWEB) April 09, 2015
Treasure Valley social media and content management firm, SoMetheMoney, has launched an innovative, affordable, turnkey social media management solution for both large and small businesses who want to optimize positive search engine results, while networking and building relationships via quality custom content. Packages begin with customers creating their own profiles that match them with unique web content attracting readers to their company brands, with prices starting as low as $169 per month.
Chris Lofthus, a client of SoMetheMoney.com, said "Social media was a defining factor in the development and reach of my local real estate brokerage service. During the economic downturn, it helped me to reach new buyers and listings that did not come from traditional market sources."
Backed by a team of professional writers, editors, photographers, videographers and content managers, SoMetheMoney.com manages all of the hassles and normally high costs of custom content, which allows businesses to focus on their core products and services. SoMetheMoney.com has developed a content management system that is scalable across various sizes of customer packages, allowing clients the ability to almost immediately begin making choices including: registration for social media services, custom content, news feeds, press releases, video blogs, corporate videos, and end-to-end social and business event capturing.
"With SoMeTheMoney.com, it has never been easier to effectively manage one of business' most daunting activities, maintaining a positive presence on the top of internet search engines," said Lorie Park, Boise Operations Manager and Company Principal. "Time after time, when we meet with our clients and show them how their company is represented, or not represented, within the most popular search engines, they are often surprised by the potential risk to their solid business reputations. Using the SoMetheMoney.com system, our customers immediately begin to reduce the high costs of writing custom content while reaping the positive benefits of managing their company's identity on the Internet."
For more information on this innovative social media company and its sales offerings, go to http://www.SoMetheMoney.com.