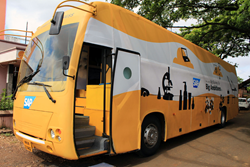 We have received an overwhelming participation at the Ambition Express. We look forward to empowering more SMEs with technological advances at Pune, said Mohan Muthuraj, Associate VP, and Technology Infrastructure Group- Sonata Software
Pune, Maharashtra (PRWEB UK) 23 April 2015
Sonata Software, a global IT services company, in their active participation at the Ambition Express, a multi-city travelling showcase initiative of SAP, successfully demonstrated SME's led technology solution at Hotel Double Tree Hilton at Pune.
Themed around "Not Just For Big Business, For Big Ambitions Too", the travelling showcase successfully travelled the South India pathway concluding its session at Pune yesterday.
Talking about the golden SME connect opportunity, Mohan Muthuraj, Associate VP, and Technology Infrastructure Group- Sonata Software, said, "We have received an overwhelming participation at the Ambition Express. We look forward to empowering more SMEs with technological advances at Pune. It's been interesting to note the ERP needs of the emerging businesses here & how SAP solutions can fit into them stressing on the versatility & affordability of the solutions exhibited here at the last lap of SME dialogues in Pune for Ambition Express."
Sonata along with their Extended Business Partners and MVAR's (Master Value Added Resellers) will assist SME's, Medium & large-sized organizations to adopt world class solutions and inspire them to compete on global standards at the Ambition Express.
Speaking at the event said Ramesh Chinchanikar, Director (SAP Operations), Primus Techsystems Pvt. Ltd, an Extended Business Member of Sonata Software. "Ambition Express is an excellent initiative by SAP to reach out to customers across all the corners of India and to let them know the latest trends in the Enterprise Application space. In our view every customer should participate and give their feedback so as to make it more effective for all in the industry to know how the solutions work and fit in to the business landscape. Needless to talk about the business benefits they bring. PRIMUS Techsystems is expanding in all geographies in India. The Ambition Express initiative has also helped us as a SAP Partner to know the expectations of our customers."
Sonata is a SAP Gold certified Partner and has been associated with SAP since 2008. Apart from being a Value Added Reseller in India, Sonata offers a range of services around SAP to its customers globally including SAP certified Application Management Services (including Output based models), SAP ERP implementation, Business Analytics (using Business Objects and Business Objects Data Services), SAP Testing services, SAP integration services as well as SAP e-commerce (hybris). hybris is one of the key cornerstones of Sonata's strategy with SAP. With a focus on verticals like Travel, Retail & CPG, Sonata's specific offerings on hybris (Multi-channel B2C e-commerce for Travel & Retail and B2B e-commerce for CPG) are designed to help customers in these verticals in their digital transformation initiatives. Sonata has also been awarded as the Most Innovative Partner by hybris in 2012 and more recently received the 2014 SAP Pinnacle Award for SME Value Added Reseller of the Year.
About Sonata Software
Sonata Software is a global IT services firm focused on catalyzing transformational IT initiatives of its clients through deep domain knowledge, technology expertise and customer commitment. The company delivers innovative new solutions for Travel, Retail and Consumer Goods industries by integrating technologies such as Omni-channel commerce, Mobility, Analytics, Cloud and ERP, to drive enhanced customer engagement, operations efficiency and return on IT investments. A trusted long-term service provider to Fortune 100 companies across both the software product development and enterprise business segments, Sonata seeks to add differentiated value to leadership who want to make an impact on their businesses, with IT.
For further information, please contact:
Ramesh Chinchanikar
Primus Techsystems
ramesh.c@primustechsys.com
+91-9011079296
Rachana Chowdhary
MediaValueWorks
+91-9619776084
rachana@mediavalueworks.com