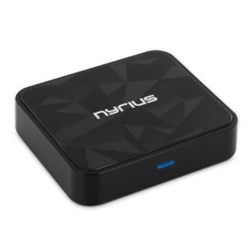 Fairfax, VA (PRWEB) December 07, 2013
The "Songo HiFi" Bluetooth Connection by Nyrius was featured on NewsWatch as part of its popular segment, Tech Report, that takes a look at the latest and coolest technology products and services on the market available to consumers. Susan Bridges conducted the tech review and shared with viewers how the Bluetooth connection can give consumers the ability to play music over Bluetooth on a stereo that doesn't have wireless capabilities
With aptX technology the Songo delivers crystal clear audio and a full frequency range of any consumers favorite music without any interference, unlike other Bluetooth devices that over-compress audio and can lose connection with a device. Instead of having to spend a good deal of money and buy a new system to replace the perfectly good one many people just recently purchased, consumers can spend up to a 20th of the amount on the Songo HiFi.
The Songo Hifi works by taking the receiver and connecting it to a stereo with the included 3.5mm auxiliary cable or digital optical cable and then plugging it into a power outlet. Turn the stereo to the auxiliary or optical input, find the Songo receiver in the smartphone's Bluetooth devices, connect, and start playing music. With plug and play It's incredibly easy to install.
The "Songo Hifi" is currently available for $49.99. To learn more head to http://www.nyrius.com today to check out the Nyrius Songo HiFi and other home connectivity products
About NewsWatch
NewsWatch is a weekly 30-minute consumer oriented television show that airs monthly on the History Channel and weekly on the ION Network. NewsWatch regularly features top technology products, unique and beautiful travel destinations, health tips, medical breakthroughs, and entertainment news on the show. A recent addition to NewsWatch, Tech Report is a weekly segment that provides viewers technology reviews of the latest and hottest products and services out on the market for consumers.
The show airs in 180 markets nationwide as well as all of the top 20 broadcast markets in the country, and is the preferred choice for Satellite Media Tour and Video News Release Distribution.
For more information or to watch the latest app reviews featured on the show, head to http://www.NewsWatchTV.com/tech-report.html.