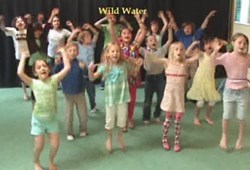 Songs To Educate is a fun way to encourage your students to love learning!
Santa Fe, New Mexico (PRWEB) November 20, 2013
Songs to Educate is pleased to introduce interactive songs with movement accompaniment in a broad range of curriculum subjects, such as the water cycle, for early childhood through 5th grade.
Teachers can use this resource as a fun, interactive way to improve ECERS scores. Success stories, testimonials, and additional resources can be found on the Songs To Educate Educators page.
Included in the Water Cycle Kit are four songs which bring alive the wonder and value of water in an engaging and informative cascade of visual, kinesthetic and auditory learning.
The Kit begins with the beloved "Water Water" song, exploring the nature and qualities of water, the water cycle and the three states of water.
Then comes the "H2O Rhythm Rap" which calls over the chemistry of water and the four fundamental components of the hydrological cycle. "Water Is Life" is a bi-lingual celebration of life giving properties of water. And finally, the whole kit flows together in the theatrical demonstration of the "Water Cycle Story Dance"!
This is Arts Integrated Education at its core!
Included in the Water Cycle Kit are song downloads, instructional dance videos, lyrics, chords and informative, creative lesson plans.
Songs to Educate lesson plans come included with the songs and are chock full of standards-based facts, prompters, ideas, practical experiments and exercises such as a splash of watery wonders:

Water is the marriage of two of the most combustible elements in the Universe, Hydrogen and Oxygen – H2O! The configuration of these building blocks (two hydrogen molecules and one oxygen molecule) produces a molecule with almost magical properties.
Water is called the Universal Solvent. Think about it. Water circulates throughout the entire planet exosphere absorbing and dissolving contaminants; from the bottom of the ocean to the highest mountain spring, from the underground aquifers to the giant thunderclouds marching across the sky, from the tomatoes in the spaghetti sauce to the cells in the human body– it's all the same water!
Water is the foundation for life! Ninety five per cent of the fertilized human egg is water, and seventy per cent of the adult human body is water!
On top of that, nearly everything we eat is between 50% - 90% water.
The 3 States of Water – solid (ice), fluid (liquid) and gas (vapor, steam) – allow water to be marvelously versatile. Ice is less dense than fluid water. So, unlike most substances in their solid state, ice floats! If it did not float, lakes and rivers and polar waters would freeze from bottom up. Aquatic life could not thrive and we would have a frozen planet.
Pure water is without color, taste and odor.
Water binds to many other substances like glass, cotton, plant tissues and soils. This property is called Adhesion. This is why water can climb up the roots, trunks and branches of plants and trees. This movement of water is called Capillary Action.
The four fundamental elements of the water cycle are Precipitation, Accumulation, Evaporation and Condensation.
Songs to Educate brings the lessons out of the textbook and into life. This is Arts Integrated Education! Teaching by doing, showing, going!
So, a few watery facts to sprinkle on students - so they too can begin to soak in the wonder of water!
About Songs To Educate:
The founders Paul and Melanie Zeir have been working directly with thousands of children since 1997 to inspire and educate through music and movement. The developed programs are now available online at http://www.SongsToEducate.com
Songs To Educate provides a full supplemental library of curriculum based songs with movement accompaniment for children ages 2-12.
Services include curriculum-based performing arts programs, conference presentations, in-depth teacher training, and tech support for public, independent and homeschooling environments.
Any teacher can integrate music and movement into the classroom…Songs To Educate is here to help!