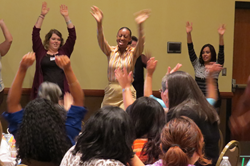 (PRWEB) February 25, 2015
Arts integrated professional development is process oriented training offered by Songs To Educate. These trainings are about engaging young lives in education through multiple arts as a media of learning through creative expression.
One of the principles in Songs To Educate methodology is "Express It To Get It," the idea in which children retain text and context by creating something that replicates what they are learning. (Sparks Article - "Express It To Get It")
-Art as metaphor, analogy or simile promotes mental dexterity.
-Art as conveyor of emotion, passion and compassion promotes emotional and social intelligence.
-Art as mission and message can change the world!
The "3D Blackboard" is another core teaching principle in Songs To Educate.
"The term [3D Blackboard] comes from a cartoon I used to love as a kid, called Tennessee Tuxedo," explains Paul Zeir, cofounder of Songs To Educate. "Simply stated, it means whatever you can write on a blackboard (or whiteboard or smart board) whether text or diagram or image, you can demonstrate in 3D theater with children right there in the center of your teaching space. It is so much more memorable and fun than passive rote 'learning'."
Zeir continues, "The minute your children are actively involved in creating the '3D Blackboard,' you are engaging them in arts integrated education. This is a mainstay of Songs To Educate." (Sparks Article "3D Whiteboard")
The 'crisis in education' is a crisis in understanding human development. Neuro and cognitive sciences are just beginning to comprehend the complexities and multi-dimensionality of the human mind and consciousness. To understand the human potential and to effectively apply those understandings in a holistic education model is truly one of the greatest challenges of the 21st century.
Nevertheless, a growing number of educators agree now, that arts integrated learning is essential to a forward looking, evolving education model.
"Education is the process of interaction between the natural possibility of each child and the encouragement to activate, develop and grow those gifts," says Melanie Zeir, cofounder of Songs To Educate. "We are looking for passionate educators who will help make this paradigm shift towards arts integration."
Talking Hands Talking Feet, the teaching artistry of Songs To Educate provides instructors with a practical toolkit: showing how and why specific songs, music, rhythm and coordination work, creative movement and dance, story theater, pattern and sequence choreography, and language arts can be used to help activate an array of natural intelligences in young lives.
Sign up to receive the Sparks Newsletter including information about Songs To Educate Professional Development workshops.
*********
The mission of Songs To Educate is to provide educators with bright tools to integrate connective song and movement arts in learning every day. These thoughtful songs accompany and encourage young lives on the human journey. Yes, each song correlates within curricular requirements, whether social studies, language arts, math or one of the sciences, but always in the context of the fertile wonder: What is possible for human life?
Click here for reviews and video testimonials from educators who have implemented Songs To Educate programs in their classroom.The Songs To Educate supplemental arts activities help make curriculum content stick. The programs also help to close the literacy gap through language rich songs, provides daily physical activity and promotes engaged, happy learners. It is user friendly and support is available.
About Song To Educate by Talking Hands Talking Feet:
The founders Paul and Melanie Zeir have been working personally with over 5400 children since 1997 to inspire and educate through music and movement. This impressive resource for ages birth through twelve years reaches children globally and is available online at http://www.SongsToEducate.com.