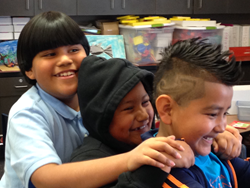 Songs To Educate champions bilingual learning through many of their original songs as a means of enhancing neural development and encouraging multi-cultural diversity.
(PRWEB) May 06, 2015
Santa Fe, New Mexico is a proud bi-lingual city with over 400 years' Hispano-Mestizo heritage and a more contemporary Latin-American cultural influx. Santa Fe Public Schools attempts to accommodate native Spanish speakers through a variety of programs such as Dual Immersion, Bilingual and English Immersion classrooms.
Talking Hands Talking Feet, the teaching artistry of Songs To Educate, champions bilingual learning through many of their original songs as a means of enhancing neural development and encouraging multi-cultural diversity. It is especially true of their "Human Body School" performing arts program, where human anatomy vocabulary is enhanced by both the English and Latin origins of words. The "Human Body School" 12 week program, currently underway at Nava Elementary School in Santa Fe, will culminate with a community performance in mid-May.
It has been proven that bilingual and multi lingual learning environments encourage neurological development. This research confirms the years of professional experience gathered by Paul and Melanie Zeir, founders of Songs to Educate.
A very effective way to teach a foreign language is through song. It bypasses the front brain tendency to switch back and forth between one's "home language" in comparison translation to the foreign language. Singing allows greater assimilation of the feeling, cadences and neurological patterns of a new language.
An example is in teaching the Talking Hands Talking Feet song "Human Bodyland". The song is all about body idioms, like "off the top of my head" or "play it by ear".
"When teaching 'Human Bodyland' to native Spanish speakers, there is a lot of humor," comments Paul Zeir, cofounder of Songs To Educate. "First of all, idioms are idiomatic to their home language. They don't always translate direct. When asked what they think 'Keep your nose clean' means, there's no equivalent in Spanish, so they think the obvious, and the idea of 'mind your own business' seems very funny to them."
Translation between languages can enhance language usage. The English word "Blood" is non-evocative compared to the Spanish equivalent "Sangre", which leads to many Latin based expressions. The English word "sanguine" for example, means to be cheerfully optimistic, hopeful or confident or to have a ruddy complexion.
Songs To Educate is certainly sanguine about its meaningful arts integrated approach to education. Children who learn the human body and numerous other subjects through this creative method are given a "leg up" and a "helping hand" so they have the "guts" and the "backbone" to "face" the future with "good hearts" and confidence.
Sign up to receive the Sparks Newsletter or if you are interested in Songs To Educate Professional Development workshops or collaborative projects in your school.
Songs To Educate aims to bring children of the 21st century into new and sustainable ways of learning that respect the natural intelligence and integrity of human life. Human Body School songs and movement theater represent an accessible, engaging new pathway of education for parents and teachers worldwide.
About Song To Educate by Talking Hands Talking Feet:
The founders Paul and Melanie Zeir have worked personally with over 5,700 children since 1997 to inspire and educate through music and movement. This impressive resource for ages birth through twelve years has reached thousands of children around the world is available online at http://www.SongsToEducate.com