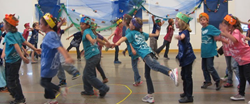 Finding ways to prompt ideas without inhibiting a child's creative development is so important.
(PRWEB) March 31, 2015
Songs to Educate is thrilled to share the research behind their most recent arts integrated education program. The organization is currently engaged in two curriculum based performing arts programs in their local area as cutting edge models to be replicated in public and independent schools around the country.
Body Intelligence is a key to mental versatility. "Dexterity of the hands matches dexterity of the brain." Expanding "Movement Vocabulary" in young lives promotes brain development, as is supported by growing research.
Talking Hands Talking Feet arts integrated learning philosophy encourages the practice of providing vibrant and promotive frameworks wherein children can run free. An example of this is to do with movement and dance.
Children's minds and bodies hunger for natural frameworks. Exploring the many ways the body moves through space in response to various rhythms and music gives young lives an "alphabet of movement." Then, to use that "alphabet" to create "words" and "phrases" expands a child's vocabulary of movement in a natural progression.
A common misconception in the idea of "child led learning" is that the educators (parents or teachers) don't actively guide the process. Not so. "Taking the lead" from children requires perceptive observation - knowing when to 'nudge' the process, knowing when to step back, keenly observing and facilitating the children in their care.
When a group of children are asked to share their movement ideas inside a fun dance song, the movements are often copycat versions of culturally popular things they've seen on the Internet. Imitation is inevitable. But expanding movement vocabulary in a wholesome direction is not inevitable. Imitation is natural. But exposing young minds and bodies to a kaleidoscope of meaningful options is the honorable work of parents and teachers.
"Generating meaningful movement vocabulary is key to promoting body intelligence. Finding ways to prompt ideas without inhibiting a child's creative development is so important," notes Melanie Zeir, co-founder of Songs to Educate and Talking Hands Talking Feet.
In a Talking Hands Talking Feet performing arts program, there is an atmosphere of no judgment or competition. Movement and dance belong with natural human theater, not cultural personality comparison or contest.
True education is about generating a meaningful mosaic of opportunities. But it is also about not shutting down a child's instinctive exploration genius. Clearly, the public education model in many countries falls way short of these ideals. Adopting creative programs like Songs To Educate's "Human Body School," however, is a step in the right direction.
Songs To Educate and its teaching artistry Talking Hands Talking Feet is a future facing organization. Its pathfinding methodology is being adopted by parents and educators worldwide. Why? Because it works.
For more information about Songs To Educate:
Professional Development Opportunities Nationwide
Summer Camps in Santa Fe, New Mexico
The mission of Songs To Educate is to provide bright tools to integrate connective song and movement arts in learning every day. These thoughtful songs accompany and encourage young lives on the human journey. Yes, each song correlates within curricular requirements, whether social studies, language arts, math or one of the sciences, but always in the context of the fertile wonder: What is possible for human life?
Click here for reviews and video testimonials from educators who have implemented Songs To Educate programs in their classroom.
About Song To Educate by Talking Hands Talking Feet:
The founders, Paul and Melanie Zeir, have worked directly with over 5,500 children since 1997 to inspire and educate through music and movement. This impressive resource for ages birth through twelve years has reached thousands of children around the world and is available online at http://www.SongsToEducate.com.