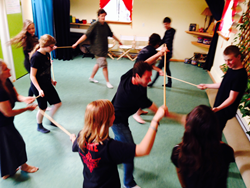 Cadence Company is about engaging the human arts of expression as a conduit of change.
(PRWEB) July 31, 2014
Cadence Company embraces a vibrant range of arts, including song and verse, music and rhythm, dance and movement, theater and story, multi-visual arts and video production all woven into performances aimed to enhance as well as to entertain.
The directors, Paul and Melanie Zeir, are inviting young artists of diverse backgrounds and talents to join Cadence Company for its first 10 week production. There is a powerful need and instinct in young people to be able to respond to the bigger issues facing all of humanity in new ways, not based in repetition of the past. Cadence Company is about engaging the human arts of expression as a conduit of change. Participating in this unique company is an opportunity to respond to current issues facing the world by employing music, song, story, theater, and dance in passionate, relevant and innovative ways.
Cadence Company is a guild of versatility training wherein self-discovery, group synergy and a potent sense of purpose come together to form a dynamo of natural creative intelligence.
The role of the orchestrators Paul and Melanie Zeir, is to provide brilliantly creative tools, training, frameworks and guidance. The participants determine the content, direction and style of presentation.
Cadence Company – Where passionate young people collaborate to change the world through the arts.
For more information and updates about Cadence Company, visit http://www.cadencecompany.net/.
The mission of Songs to Educate is to provide tools for teachers and parents to make a difference in young lives. All the best conceived formulae do not really matter unless education happens within the profound encouragement, warmth and security of our core humanity. Keeping it human is everything! That's what these songs are all about. Yes, each one correlates within curricular requirements, whether social studies, language arts, math or one of the sciences, but always in the context of the fertile wonders of life and living.
About Song To Educate:
The founders Paul and Melanie Zeir have been working directly with thousands of children since 1997 to inspire and educate through music and movement. Interactive songs with dances and lesson plans are now available online at http://www.SongsToEducate.com.
Songs To Educate provides a full supplemental library of curriculum based songs with movement accompaniment for children ages 2-12.
Above all else, Songs To Educate is about loving learning.
Services include curriculum-based performing arts programs, conference presentations, professional development, and tech support for public, independent and homeschooling environments.
Any teacher can integrate music and movement into the classroom…Songs To Educate is here to help!