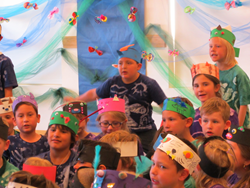 (PRWEB) May 29, 2014
Songs To Educate, an arts integrated education resource, announces the Wild and Free Arts Integrated Education Program. This program aims to teach young children about the concept of endangered species through a series of songs with accompanying movements.
The notion of "Wild and Free" springs from a universal passion in children. Children are closer to the planet, closer to the primordial language of all sentient beings, from crickets to crocodiles. To be a child, in part, is to be entwined in the web of life, imbued with a sense of wonder, magic, empathy and connection to everything.
Founder of Songs To Educate Melanie and Paul Zeir have years of education experience. Their time working with children has shown that when children come to realize that the existence of many species on our planet are threatened, there is a great sadness, confusion and lament that wells up in them, as if to say..."Why? How can it be so?"
To answer this question is a delicate and profound journey into the tender heartbeat of life itself, wherein a great hope is kindled. The Wild and Free program will help teachers and parents educate children about endangered species in a gentle, enjoyable and emotionally intelligent way.
The Wild and Free curriculum includes the Talking Hands Talking Feet songs
-Wild and Free
-Be Better
-Animal Shake and Shuffle
-Animal Pow Wow
-Golden Opportunity
The mission of Songs to Educate is to nudge and encourage teachers and parents to make a difference in young lives. All the best conceived formulae don't really matter unless children are educated within the profound encouragement, warmth and security of core humanity. Keeping it human is everything! That's what these songs are essentially about. Yes, each one correlates within curricular requirements, whether social studies, language arts, math or one of the sciences are being taught, but always the context of the fertile wonder always exists: What does it mean to be human?
About Song To Educate:
The founders Paul and Melanie Zeir have been working directly with thousands of children since 1997 to inspire and educate through music and movement. Interactive songs with dances and lesson plans are now available online at http://www.SongsToEducate.com.
Songs To Educate provides a full supplemental library of curriculum based songs with movement accompaniment for children ages 2-12.
Songs To Educate is about loving, learning and satisfying the curriculum requirements.
Services include curriculum-based performing arts programs, conference presentations, professional development, and tech support for public, independent and homeschooling environments.
Any teacher can integrate music and movement into the classroom…Songs To Educate is here to help!