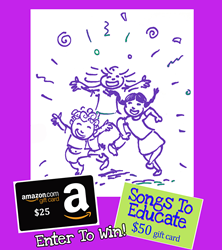 This leading edge resource offers the most innovative and practical pathways for incorporating music in the classroom throughout the day," says Melanie Zeir, co-founder of Songs To Educate.
(PRWEB) March 19, 2014
Songs To Educate, a leading provider in Arts Integrated Education frameworks, helps teachers incorporate music and movement in the classroom every day.
March is "Music In Our Schools Month", an annual promotion launched by the National Association for Music Education and a time of year when music education becomes the focus of schools across the nation. To honor and celebrate this annual event, Songs To Educate is holding an innovative Facebook contest.
The contest is simple. Songs to Educate wants to hear the ideas of teachers and parents for songs needed in the classroom and at home. By commenting on the contest post with an idea for a children's song and liking the Songs To Educate page on Facebook, a person is automatically entered to win a $50 voucher for any Songs To Educate products AND a $25 Amazon gift card. A random winner will be drawn on March 25th.
Songs To Educate takes the lid off the idea of "music in our schools". Singing and dancing, poetry and theater lend themselves beautifully to teaching. Here are some of the many benefits of incorporating music and movement into education:

Songs can be used as memory tools.
Songs with movement choreography can be used as 3D moving diagrams.
Songs can help expand a subject with questions and ideas...in verses kids make up.
Rhythm counting games are beautiful math mind liveners.
Music and all the arts can be used as teaching tools.
Moving to music gets oxygen flowing throughout the body, boosting immunity, charging the blood and brain, enlivening the senses.
This leading edge resource offers the most innovative and practical pathways for incorporating music in the classroom throughout the day. Educators can adopt a more versatile approach to music education using songs and movement as a vital teaching tool to complement the curriculum. Any teacher can do it!
Here are some more ways teachers and parents can use Songs To Educate:
Get everyone up on their feet singing and moving to a simple, fun and engaging call and response song.
Start the day with the "Hello Hello" song traveling through 15 languages across the world!
Start any part of the day with a wonderful brain and body tune-up song like "We've Got The Rhythm", "Hand Dance" or "Planet Wonderland".
Explore varied subjects using a broad range of learning songs like the beloved "Water Cycle Story Dance", "Human Body Operator's Manual" or "Riddle of the Planets".
Songs To Educate thematic "Kits" create opportunities to learn songs with bright tie-ins to standards in literacy, math, social studies and science.
Play these innovative and engaging songs during snacks, transitions and open times to create a warm, content- rich environment in the classroom.
Show Songs To Educate videos to share what other children are doing with these songs and to spark ideas.
Teachers can create beautiful curriculum- based performance programs with the natural ingenuity and facilitation of this substantial resource.
To enter to win the $50 voucher for any Songs To Educate products and a $25 Amazon gift card, "like" the Songs To Educate Facebook page at https://www.facebook.com/SongsToEducateTHTF and comment on the contest post with an idea for a new Songs To Educate song. Contest ends March 25.
About Song To Educate:
The founders Paul and Melanie Zeir have been working directly with thousands of children since 1997 to inspire and educate through music and movement. Interactive songs with dances and lesson plans are now available online at http://www.SongsToEducate.com.
Songs To Educate provides a full supplemental library of curriculum based songs with movement accompaniment for children ages 2-12.
Songs To Educate is about loving learning and satisfying the curriculum requirements.
Services include curriculum-based performing arts programs, conference presentations, professional development, and tech support for public, independent and homeschooling environments.
Any teacher can integrate music and movement into the classroom…Songs To Educate is here to help!