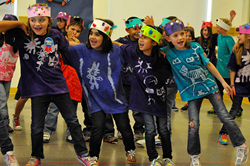 Every single song is an enjoyable and engaging workshop.
(PRWEB) July 30, 2015
The newly released "Human Body School" CD by Talking Hands Talking Feet, the teaching artistry of Songs To Educate, gives children an opportunity to learn about their bodies through catchy, fun and theatrical songs. This ground breaking album is a whole Human Body curriculum. Teachers and parents can use these songs to bring human body studies alive in a way children love and remember.
Every single song is an enjoyable and engaging workshop. For example, the song "Feeling Language" has a wonderful lesson plan designed to foster emotional fluency and intelligence in primary school aged children. The summer blockbuster movie "Inside Out" has brought the subject of emotional fluency front and center in the minds of many parents and teachers.
Here is an excerpt from the lesson plan for "Feeling Language":
"Emotional intelligence perception is an important tool in any educator's teaching toolkit. Our cultural lexicon of 'feeling language' is often shallow and generalized. Helping young lives to expand their vocabulary of feeling is helping them to navigate their inner life. That's where the song "Feeling Language" can be used as a springboard.
It's a bit more involved than asking a child, 'how do you feel?' or 'how does that make you feel?' It is supplying young lives with a perceptive and versatile mosaic of feeling language. It is not superficial sentimentalism or melodramatic misuse of emotions. It is about reading what is going on inside oneself with awareness and sensitivity."
Paul A. Zeir, cofounder of Songs To Educate speaks about what's behind the song. "We all learn to navigate our emotions with varying degrees of fluency. Creating opportunities to express emotions through the arts, particularly music is a powerful tool for building emotional literacy and intelligence. Songs like 'Feeling Language' can be part of a parent or teacher's emotional intelligence toolkit."
The Pixar movie "Inside Out" got a lot right about navigating emotions and the central role they play in one's overall well being. The setting for the story takes place in the command center of the brain of an eleven year old girl, with five core emotions at the helm. It couldn't be appraised better than in a current article by the Greater Good Science Center.
Songs To Educate passionately advocates for the inner life of children. A child's character development depends on the depth and scope of their experience; and how they handle the challenges of growing up. Human emotional character and sentiment is seeded in childhood. So providing rich and fertile fields of experience and exposure to the greater human story through the living arts a vital part of inner life education.
Expanding emotional vocabulary (emotional literacy) comes with understanding and 'companioning' complex emotions as they come up.
Paul Zeir comments further, "Happiness is not derived from avoiding emotional turmoil. We tend to suppress difficult emotions like grief, profound sadness, melancholy, anger, anxiety about the state of the world and fear of death; whilst mix-managing ego-defensive reactive emotions which actually prevent emotional growth, maturity and depth."
Zeir continues, "But the greater depth and breadth of feeling, a truer 'happiness', comes from a regenerative and transcendent quality of emotional connection. It is near to the heart of the art of living. Helping young lives within this 'art' is an honor, privilege and gift."
Songs To Educate provides students with new and exciting ways to access required subjects such as Math, Anatomy, and History through the enlivening media of Song and Movement Arts. With nearly 20 years of experience as educational consultants, hundreds of original songs, and our creative instructional methodologies, we've inspired thousands of students to reconnect to their love of learning.
Sign up to receive the Sparks Newsletter or if you are interested in Songs To Educate Professional Development workshops or collaborative projects in your school.