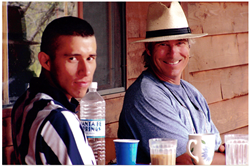 The heart knows no borders when you give your heart wings.
(PRWEB) June 19, 2014
Songs To Educate, an arts integrated resource, announces the "Neighbor Song", which teaches compassion and diversity to children. The premise of this song is that children can impact the future with kindness and understanding.
The "Neighbor Song" carries an important message:
"Hello my neighbor, hello my friend.
Kind greetings to you I send.
Children of different lands are we;
learning by love and understanding.
The heart knows no borders
when you give your heart wings."
Every Talking Hands Talking Feet song has a story. The "Neighbor Song" is about a friendship between a young man from El Salvador and his boss "El Gringo Loco" in the United States. This friendship revealed the greater immigration story and the reasons behind the tide of humanity moving northward from Central America and Mexico to cross the Rio Grande.
The official number of "illegals" in the U.S. is eleven million. The actual number easily exceeds twenty million. The reality is different than the popular media would tell; and the issue of immigration and border control has exposed bigotry, intolerance and ignorance in the name of patriotism and the almighty dollar .
Songs To Educate – Talking Hands Talking Feet started with a family believing in service through education; steering clear of the volatile battlefields of politics, religious hypocrisy and ethnic prejudice. Songs To Educate strongly believes a 'throughout human' education to be the key to the cure.
The "Neighbor Song" carries a simple yet profound message. It says, no matter what land a person comes from, all people are of kind by virtue of their shared humanity. It says, a person can rise above their blood passions and prejudices through education. Education (not cultural indoctrination) gives our heart "wings", the wings of an enlightened, empathic mind. "Borders" of gender inequity, ethnic intolerance, economic feudalism and nationalism belong to a barbaric past.
This song is one of hope, humanity and kindness kindled by love and understanding.
"The heart knows no borders when you give your heart wings."
Listen to the "Neighbor Song" here .
The mission of Songs to Educate is to nudge and encourage teachers or parents to make a difference in young lives. All the best conceived formulae do not really matter unless children are educated within the profound encouragement, warmth and security of core humanity. Keeping it human is everything! That's what these songs are essentially about. Yes, each one correlates within curricular requirements, whether social studies, language arts, math or one of the sciences are being taught, but always the context of the fertile wonder always exists: What does it mean to be human?
About Song To Educate:
The founders Paul and Melanie Zeir have been working directly with thousands of children since 1997 to inspire and educate through music and movement. Interactive songs with dances and lesson plans are now available online at http://www.SongsToEducate.com.
Songs To Educate provides a full supplemental library of curriculum based songs with movement accompaniment for children ages 2-12.
Songs To Educate is about loving, learning and satisfying the curriculum requirements.
Services include curriculum-based performing arts programs, conference presentations, professional development, and tech support for public, independent and homeschooling environments.
Any teacher can integrate music and movement into the classroom…Songs To Educate is here to help!