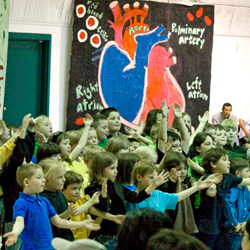 Teach Essential Anatomy, Body Systems, Health and Nutrition whilst engendering Self Respect, Humanity and Vision through a wonderful suite of songs presented in the "Human Body School" arts integrated curriculum.
(PRWEB) January 21, 2015
The artist Talking Hands Talking Feet of Songs to Educate is in the final engineering towards release of a new CD, aimed to launch Spring 2015. The title song presented in this week's Jukebox feature is called "Human Body School".
Songs to Educate encourages teachers and parents alike to enjoy the video accompanying this humorous and inviting song! The video includes excerpts from curriculum based performing arts programs in Santa Fe, New Mexico by the teaching artist Talking Hands Talking Feet.
This curriculum comes from the heart of arts integrated methodology. When children act out the body systems through simile song and movement theater, the benefits are multifold. Teachers who have used this program have seen greater comprehension, retention and ability to interpret and communicate essential concepts relating to the subject matter.
The songs are springboards into discovery. The lyrics always prompt questions and exploration as well as provide a rich menu of stimulating facts. Talking Hands Talking Feet aims to deliver valuable curriculum content through each song.
The music itself is written to match the nature of the subject. For example, the "Nervous System" song is quick moving and electrical like the firing of nerve synapses, whilst the "Digestive System" tune follows the slow but vibrant digestive journey of food through the entire alimentary canal.
This week's highlighted song is an overture to the entire operatic production which includes a full complement of 21 songs. The actor- singer-dancer participants introduce the show by singing the title song which begins:
"We're gonna show you the workings of the body.
Some people think it's kind of gross!
Not to us. We think it's awesome, brilliant and cool.
Welcome to the Human Body School.
Welcome to the Human Body School."
To listen to the song Human Body School.
To see primary school Human Body School performance excerpts.
To see an adorable preschool version of the song.
For educators interested in Human Body School Professional Development.
The mission of Songs To Educate is to provide bright tools to integrate connective song and movement arts in learning every day. These thoughtful songs accompany and encourage young lives on the human journey. Yes, each song correlates within curricular requirements, whether social studies, language arts, math or one of the sciences, but always in the context of the fertile wonder: What is possible for human life?
About Song To Educate by Talking Hands Talking Feet:
The founders Paul and Melanie Zeir have been working directly with over 5,000 children since 1997 to inspire and educate through music and movement arts. This impressive arts integrated education resource for ages birth through twelve years is available online at http://www.SongsToEducate.com.