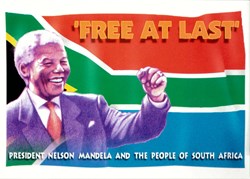 There are rare times when the entire world becomes magnetized to an event; especially an event which causes us to reflect on our shared humanity. It is so with the passing of Nelson Mandela.
(PRWEB) December 10, 2013
Songs to Educate founders Melanie and Paul Zeir are moved to give tribute in light of the passing of a genuine leader, Nelson Mandela. Mandela's contributions to both South Africa and the world are echoed in the sentiment of their song, "Shines the Life."
The song "Shines the Life" was written in South Africa on the threshold of extraordinary change in December 1988. The Apartheid government had become a world pariah. Economic sanctions, political opposition and a resounding world exhortation and call for human rights, combined to put pressure upon the ruling National Party. Even so, the South African government arrogantly dismissed world opinion.
The eyes of the world were upon this country. Paul Simon's "Graceland" album and Peter Gabriel's song "Biko" brought South African music onto the world stage. The music of Ladysmith Black Mambazo, Johhny Clegg and Savuka, Hugh Masekela and Miriam Makeba began to find its way into the hearts and minds of people around the world. Great movies like "Cry Freedom", "A Dry White Season" and "A World Apart" helped to spark world outrage.
South Africa itself is an extraordinary kaleidoscope of cultural and historical influences. The land itself is some of the most beautiful and diverse geography on the planet, rich in natural resources. But South Africa's greatest resource by far is the powerful mosaic of human culture.
Very few South Africans supported Apartheid, but all were compelled to obey its laws. Those who were its advocates were a minority of "right wing" extremists who justified systematic racism based on a warped interpretation of the Bible. Any echo of such ideology in our time needs to be brought into the full light of truth, education, justice and humanity.
The song "Shines The Life" says - "All the darkness of the night cannot put out a candle's light!" Thank you Madiba, for your candle's light!
About Songs To Educate:
The founders Paul and Melanie Zeir have been working directly with thousands of children since 1997 to inspire and educate through music and movement. Interactive songs with dances and lesson plans are now available online at http://www.SongsToEducate.com.
Songs To Educate provides a full supplemental library of curriculum based songs with movement accompaniment for children ages 2-12.
Songs To Educate is about loving learning and satisfying the curriculum requirements.
Services include curriculum-based performing arts programs, conference presentations, in-depth teacher training, and tech support for public, independent and homeschooling environments.
Any teacher can integrate music and movement into the classroom…Songs To Educate is here to help.