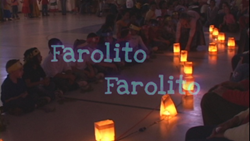 Songs To Educate encourages all to join the festivities and enjoy the 'Farolito Farolito' song.
(PRWEB) December 18, 2014
The December Solstice is celebrated all over the world. End of year celebrations are a time of new light and new life, often accompanied by feasts and festivals, pageantry and ceremony. There are celebrations of wonder and peace, of gratitude and generosity, of forgiveness and the warmth of community...new fires exchanged for old!
Songs To Educate, an arts integrated resource, celebrates this special time of year with a unique holiday video and song. Songs To Educate encourages all to join the festivities and enjoy the "Farolito Farolito" song.
In Northern New Mexico in the U.S.A., the winter holidays are illuminated by a very special tradition. The tradition originates with "La Posada" (meaning "lodging" in Spanish), which is a formal reenactment of the Christian Nativity. Farolitos were used to light the pathway for Mary and Joseph seeking a place to stay on that auspicious night. La Posada has been reenacted throughout the Southwest and Latin America since colonial times.
Farolitos are traditionally a small paper sack with a votive candle placed inside and anchored in sand. The effect is a soft glowing light. Many Farolitos are strung in a line to illuminate a pathway or the roofline of an adobe building. The effect is beautiful!
In Santa Fe, New Mexico there is a unique celebration on Christmas Eve. It is called the Farolitos Walk on Canyon Road. Thousands of locals and tourists come together beginning at dusk to enjoy a festive atmosphere meandering in and out and around about the charming historical art gallery avenue glowing with Farolitos and bonfires.
The Canyon Road Farolitos Walk brings thousands together every Christmas Eve in a cheerful and reflective celebration of Peace.
The Earth comes closest to the Sun at this time of year! It is called the Perihelion. For millennia, humans have observed and marked this cyclical passing. In western culture it is expressed in everything from fairy lights on Christmas trees to the idea of gifts coming from the North Pole; from celebrations of rebirth and festivals of light to traditions of family reunion.
Independent of custom and belief, it is a time of year humans feel moved to celebrate in quiet reflection or festive revelry...and it happens all over the world!
In Northern New Mexico, the "Land of Enchantment", the imaginations of children shimmer in the glow of Farolitos where hopes and dreams are lifted into the wintry night sky. The song Farolito Farolito captures the wonder of this special time of year.
The Songs To Educate supplemental arts activities help make curriculum content stick. The programs also help to close the literacy gap through language rich songs, provides daily physical activity and promotes engaged, happy learners. It is user friendly and support is available.
Songs To Educate is looking for teachers and parents who are passionate about the future. Sign up to participate in this hopeful and vital movement. https://2938c0.campgn5.com/Professional-Development-with-Songs-To-Educate
The mission of Songs To Educate is to provide bright tools to integrate connective song and movement arts in learning every day. These thoughtful songs accompany and encourage young lives on the human journey. Yes, each song correlates within curricular requirements, whether social studies, language arts, math or one of the sciences, but always in the context of the fertile wonder: What is possible for human life?
About Songs To Educate by Talking Hands Talking Feet:
The founders Paul and Melanie Zeir have been working directly with over 5,000 children since 1997 to inspire and educate through music and movement. This impressive resource for ages birth through twelve years is available online at http://www.SongsToEducate.com.