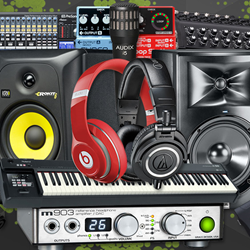 We are empowering users to evaluate product performance in a nearly clinical manner without the limitations of a brick and mortar store.
(PRWEB) October 29, 2014
Denver, Colorado-based pro audio equipment dealer, Sonic Sense, has announced the release of a new retail website to celebrate its 20th anniversary. Online since 1994, Sonic Sense is the oldest online pro audio company and among the oldest eCommerce companies in the United States.
The new website features a number of tools designed to enhance the online shopping experience including an industry-first online auditioning system that allows users to listen to audio products online. The online auditioning system (recently featured in an article by PC Magazine) allows users to compare audio products, side by side, from anywhere with an internet connection.
The new site also features an enhanced bundling system called "The Bundler", which enables users to create custom packages based on their needs and application. Alternatively, users can choose from 3,000 pre-built application-specific packages for sale among their 14,000 item catalog. In addition, the website features hundreds of hours of product audio samples and video reviews.
"The new site has been developed, from the start, with the user experience in mind," says co-owner, Marc Nutter. "Customer-centricity is at the core of everything we do and it's our mission to expertly deliver the products and content that customers need to make an educated purchasing decision," he continued.
"We have long said that our goal is to offer the In-Store Experience Online, but it's quickly becoming more than that. We are empowering users to evaluate product performance in a nearly clinical manner without the limitations of a brick and mortar store. You're not likely going to find a dealer with a great sounding room for product evaluation stocked with over 120 headphones, 50 studio monitors, dozens of loudspeakers, and such a wide array of portable recorders, interfaces, and microphones all ready to compare to one another."
In addition to the desktop retail website, Sonic Sense has also released the site in a fully mobile format so users on the move can have the same experience from their phone as they can at their desktop or tablet.
Later this month, Sonic Sense will unveil its new Sonic Sense Resource Center, an interactive repository of all of its digital content where musicians can learn about and discuss audio products. The company is set on remaining tight-lipped about the details but commented that, "We've been redefining the way people shop for gear since the very beginning and the Resource Center is the next step in our evolution. We will continue to bring new innovations to the market that empower musicians and audio engineers to create better music, get better sound, and make informed purchasing decisions. Customers want to be much more self sufficient these days and we're committed to enabling them to do just that."
For more information about Sonic Sense, visit http://www.sonicsense.com or https://plus.google.com/+SonicSenseProAudio.