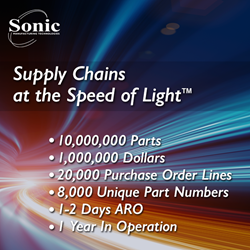 Many in our industry report purchase order costs of $25-$100. We believe we can drive 65% of our orders through the Speed of Light model and reduce ordering costs to below $5.
(PRWEB) March 15, 2017
Sonic Manufacturing Technologies achieved a major milestone in its Supply Chains at the Speed of Light initiative: Over 10 million parts procured instantaneously, touch-free and error-free since the program was launched one year ago.

10,000,000 Parts
1,000,000 Dollars
20,000 Purchase Order Lines
8,000 Unique Part Numbers
1-2 Days ARO
1 Year In Operation
David Ginsberg, Vice President of Supply Chain for Sonic stated, "These 10 million parts consist of over 8,000 unique part numbers delivered on over 20,000 purchase order lines; frequently for next-day delivery. It is hard to imagine the time & labor saved from not having to hand-key 20,000 purchase orders, as well as the phenomenal improvement in performance and delivery. This program has a direct impact on factory turnaround and customer satisfaction."
Supply Chains at the Speed of Light is an API-centric supply chain model that links the Sonic direct materials planning systems ("MRP") with live supplier price and availability. Sonic then has one computer to buy from the other computer without human stops, reviews or authorizations; moving the supply chain at the speed of data, the speed of light.
Ginsberg adds, "Operations is execution. For too long the industry focus has been on the metrics, reporting and analytics of data rather than the real-time execution of data. This disproportional focus on reporting & analytics is at odds with real-time execution. Instead, Sonic chose to focus on the real-time execution of actionable data; and making our data even more actionable."
Ken Raab, CEO of Sonic said, "Customer expectations for speed and performance continue to accelerate, and if you are pursuing "Made in America" then you are doing so with these high expectations. While some can accept 'slow' from offshore suppliers, you can't from your next-door supplier. Now, with API procurement, 40% of our materials are ordered instantly and 50% of our parts arrive in the building within 2 business days. We are now regularly achieving full turnkey deliveries in 2-4 weeks while claiming TCO cost parity with the offshore EMS industry. This is true competitive advantage."
When asked about the average cost of ordering in the industry, Ginsberg said, "Many in our industry report purchase order costs of $25-$100. The average cost of a purchase order at Sonic has fallen below $10, and with further supplier development over the coming year we believe we can drive 65% of our orders through the Speed of Light model and reduce ordering costs to below $5. Computers do not have the same limits of scale that headcount does, so scaling the process beyond 20 million parts in the coming year is quite reasonable."
Sonic Manufacturing Technologies operates the largest Electronics Manufacturing Services (EMS) facility in the Silicon Valley with 85,000 s/f of capacity and 9 lines. Customers include members of the Silicon Valley Top 10, medical, automotive, IoT and drone manufacturers; and numerous Kickstarter, Lab and Incubator accounts.
ABOUT SONIC MANUFACTURING TECHNOLOGIES
Established in 1996, Sonic Manufacturing Technologies, Inc. is a leading provider of Electronic Manufacturing Services (EMS). Headquartered in Fremont, California, Sonic provides volume production, new product introduction (NPI), prototyping, and in-house board layouts. Consistent manufacturing excellence, cutting-edge equipment, and industry expertise have given Sonic a reputation as a reliable source for volume production, retail fulfillment, and international logistics. Sonic is privately owned and operated by the same management team for 20 years. For more information, go to http://sonicmfg.com/.