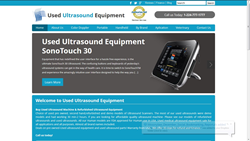 Mount Prospect, IL (PRWEB) February 27, 2014
KeeboMed Inc., the leading vet and human diagnostic machine supplier, has introduced SonoTouch 30 in its used ultrasound equipment category. The device is compact, lightweight and extremely durable.
One of the company executives said, "We are very pleased to bring to you the brand new SonoTouch 30 which has amazing image quality and straight forward controls. The device has a portable stand with adjustable viewing angles. It has an impressive design and produces clear and smooth images with the sensitive color Doppler. We are offering the device at a very affordable rate to give you the kind of performance that you want"
The equipment can be used in specialties like obstetrics, gynecology, MSK, vascular, general imaging, small parts, emergency medicine and abdominal. It has a 10.4″ LED touchscreen and a battery life of 2.5 hours. Some of the highlights of the equipment are, one active probe port, 16GB high speed memory, 3 USB ports, Ethernet port and S-video out port.
"The device boots up in as fast as 30 seconds. It is not only compact and durable but also comes with versatile digital image and report management software, General measurement package, Clinical measurement package, Multi-language screen display, Image archive system and Patient information management system" added the executive.
KeeboMed Inc. specializes in used ultrasound equipment for all sorts of applications at slashed prices. The store's collection includes equipment for anesthesia and abdominal ultrasound to biopsy and trans-cranial Doppler. The inventory has everything from portable ultrasound equipment like used chison 8300 to color Doppler like used SonoScape S2 and used Chison Q5 for sale.
About the Company:
KeeboMed Inc. is an on-line store which supplies used ultrasound equipment to its customers all over the United States. The company aims at providing the best quality diagnostic machines to its US wide customers at competitive prices. To find more information on used bovine, canine and used equine ultrasound for sale visit the company website.
Contact Information:
Phone: 224 777-1777
Website: http://ultrasound-machine.com