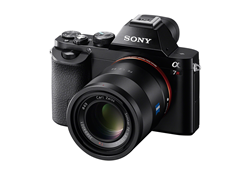 Sony Unveils the α7 and α7R—World's Lightest Interchangeable-Lens Full-Frame Mirrorless Cameras and a Range of Matching Full-Frame Lenses—All Available Now at B&H Photo Video
New York, NY (PRWEB) October 16, 2013
Introducing the all-new α7 and α7R, Sony's full-frame compact interchangeable-lens cameras. The α7R model comes equipped with a 36.3-effective-megapixel full-frame sensor, with the optical low-pass filter omitted.
The Sony α7 and α7R cameras incorporates a high contrast 2.4M dot OLED EVF for eye-level framing: View every scene in rich detail with the XGA OLED Tru-Finder, which features OLED improvements and the same 3-lens optical system used in the flagship α99. The viewfinder faithfully displays what will appear in your recording, including the effects of your camera settings, so you can accurately monitor the results. One'll enjoy rich tonal gradations and 3 times the contrast of the α99. High-end features like 100% frame coverage and a wide viewing angle are also provided.
The Sony a7R, contrastingly, features a 36.3MP full-frame Exmor CMOS sensor and utilizes contrast-detection focusing, which is highly precise and more detail oriented. In Speed Priority mode, up to 4 fps continuous shooting is possible, or 1.5 fps in normal continuous mode. With these principle differences noted, Sony has created both a camera that should appeal to those working in fast-paced situations with moving subjects—the a7, as well as a camera that is more geared towards those who tend to photograph more stationary subjects and are looking to extract the utmost detail possible from a scene—the a7R.
The new Sony cameras feature Fast Intelligent AF for responsive, accurate, and greater operate-ability with full frame sensor. Read More about the Sony a7R digital camera http://www.bhphotovideo.com/c/product/1008112-REG/sony_ilce7r_b_a7r_mirrorless_digital_camera.html
The α7 camera incorporates a 35mm full-frame sensor with 24.3 effective megapixels. Read all about the Sony a7 digital camera http://www.bhphotovideo.com/c/product/1008114-REG/sony_ilce7_b_a7_mirrorless_digital_camera.html.
Both cameras feature the new BIONZ X image processing engine, providing extremely realistic details, and by far the highest image quality in αlpha history.
The high-speed image processing engine and improved algorithms combine with optimized image sensor read-out speed to achieve ultra-high-speed AF despite the use of a full-frame sensor.
The Sony α7 and α7R cameras feature a tilt-able 3.0" (1,229k dots) Xtra Fine LCD Display makes it easy to photograph over crowds or low to capture pets eye to eye by swinging up approx. 84° and down approx. 45°. Easily scroll through menus and preview life thanks to WhiteMagic technology that dramatically increases visibility in bright daylight. The large display delivers brilliant-quality still images and movies while enabling easy focusing operation.
Simple connectivity to smartphones via Wi-Fi or NFC connectivity with smartphones for One-touch sharing/One-touch remote has been simplified with Wi-Fi®/NFC control. In addition to Wi-Fi support for connecting to smartphones, the α7 and α7R cameras also supports NFC (near field communication) providing "one touch connection" convenience when transferring images to Android smartphones and tablets. Users need only touch devices to connect; no complex set-up is required. Moreover, when using Smart Remote Control — a feature that allows shutter release to be controlled by a smartphone — connection to the smartphone can be established by simply touching compatible devices.
14-bit RAW image data of extremely high quality is outputted by the α7 and α7R. This data fully preserves the rich detail generated by the image sensor during the 14-bit A/D conversion process. When developed with Sony's Image Data Converter RAW development software, these images deliver the superb photographic expression and rich gradation that only 14-bit data can offer.
The Sony α7 and α7R cameras are fully compatible with Sony's E-mount lens system and the newly expanded line of E-mount compact and lightweight full-frame lenses from Carl Zeiss. Read all about the three new matching full-frame lenses:
Sony 24-70mm F4 ZA OSS mid-range zoom lens covers wide-angle to portrait-length perspectives and features a constant f/4 maximum aperture for consistent performance throughout the zoom range. http://www.bhphotovideo.com/c/product/1008126-REG/sony_sel2470z_vario_tessar_t_fe_24_70mm.html
Sony Sonnar T* FE 35mm f/2.8 ZA a prime wide-angle lens features a bright f/2.8 maximum aperture to benefit working in low-light conditions and for greater control over the plane of focus. http://www.bhphotovideo.com/c/product/1008123-REG/sony_sel35f28z_sonnar_t_fe_35mm.html
Sony Sonnar T* FE 55mm f/1.8 ZA a prime normal-length lens features a bright f/1.8 maximum aperture to benefit working in low-light conditions and for greater control over the plane of focus. http://www.bhphotovideo.com/c/product/1008124-REG/sony_sel55f18z_sonnar_t_fe_55mm.html
At this same time Sony also announced the Cyber-shot DSC-RX10 digital camera
Featuring a large F2.8 maximum aperture throughout an expansive 24-200mm (35mm equivalent) zoom range gives the ample opportunity to express the vision. Make a subject stand out — manipulate depth of field to defocus backgrounds for creative effect, as great photographers do. The impeccable Carl Zeiss Vario-Sonnar T* lens' advanced, compact fixed-lens design optimizes image quality consistently from edge to edge.
Read more about the Sony Cyber-shot DSC-RX10 digital camera: http://www.bhphotovideo.com/c/product/1009156-REG/sony_dscrx10_b_cyber_shot_dsc_rx10_digital_camera.html.
Read and learn all about the Sony a7 and a7R at BH InDepth
A full hands-on YouTube Video first look at B&H Photo of the all-new Sony α7, α7R full-frame and RX10 cameras. http://www.youtube.com/watch?v=vAP9guj8JTI
B&H Photo, a qualified Sony Authorized reseller with the most up to date Sony product information, product pricing and individual promotional offers.
Connect with B&H Photo on the web (Facebook, Twitter, Tumblr, Google+, Pinterest, Flickr, YouTube, B&H Insights & InDepth).
About B&H Photo Photo Video
As the world's largest source of photography, video and audio equipment, B&H Photo-Video is known worldwide for their attentive, knowledgeable sales staff, and excellent customer service, including fast and reliable shipping. Visitors to the website can access a variety of enlightening articles and educational videos. B&H has been satisfying customers worldwide for nearly to 40 years. http://www.bhphotovideo.com/