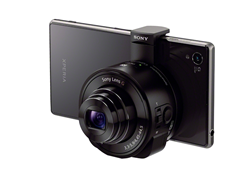 New York, NY (PRWEB) September 04, 2013
Sony announces two first-ever zoom lens and sensor combos that clips right to a smartphone. Now one can get 10x or 100x closer to the action with a smartphone—and share pics instantly online for maximum "likes." It's never been easier or more convenient to capture and share special moments in the beautiful quality deserved.
The shape of these cameras resembles that of a lens more than a traditional camera; however, they provide many of the same advanced features as other mid-level compact cameras. Indeed, the purpose of these cameras is to blend the benefits of a smartphone—convenience, large touchscreen, and easy sharing—with the image quality and versatility of a high-resolution camera with an optical zoom lens.
Read and learn all about the new Sony Lens-Style cameras at BH Indepth
http://www.bhphotovideo.com/indepth/sony/news/unveiled-sony-reimagines-cellphone-camera-new-qx100-and-qx10
The innovation of the Sony DSC-QX100 http://www.bhphotovideo.com/c/product/1002614-REG/sony_dsc_qx100_digital_camera.html and DSC-QX10 is that they forgo the camera body per se and attach directly to a smartphone with a sturdy, adjustable, spring-loaded bracket. The built-in Wi-Fi of the camera links to iOS or Android smartphones, the latter of which can utilize convenient NFC (Near Field Communication) for tapping-to-connect support, and once the Wi-Fi connection is established and the free PlayMemories Mobile app has been installed, to the phone will serve as the camera grip while you use its screen for composition, playback, and touch-menu control, including touch autofocus. Images are automatically saved to both the smartphone's memory and to the memory cards of the camera. The QX100 and QX10 are compatible with microSD, microSDHC, Memory Stick Micro, and Memory Stick Micro Mark II memory cards. When images have been wirelessly copied to a smartphone, one can utilize any one of numerous apps to edit, manipulate, store, and share them on social media sites.
When one finished shooting, the camera detaches easily. These cameras can also function uncoupled from the smartphone. One can shoot handheld, with the smartphone serving as remote control. In addition, the QX100 and QX10 have a physical zoom lever and shutter release on the camera body to shoot without a smartphone and then view the photos later. http://www.bhphotovideo.com/c/product/1002701-REG/sony_dsc_qx10_b_dsc_qx10_digital_camera_black.html
The Sony DSC-QX100 Digital Camera houses a 20.2MP 1" Back Side Illuminated Exmor R CMOS sensor and the BIONZ image processor for high-resolution imaging and effective low-light capture. This is the same sensor-and-processor combination found on the respected Sony RX100 Mark II.
http://www.bhphotovideo.com/c/product/1002614-REG/sony_dsc_qx100_digital_camera.html
Furthermore, the Carl Zeiss Vario-Sonnar T* f/1.8 lens on the QX100 also matches the one on the RX100 II. This lens offers a 3.6x optical zoom with the 35mm focal length equivalence of 28-100mm. Its f/1.8 maximum aperture, on the wide-angle end, is effective in low light and works to enable shallow-depth-of-field shooting.
Enhancing the camera's low-light capability, ISO sensitivities range from 160 to 12800, and can be expanded to 25600. Optical SteadyShot image stabilization provides compensation for the blur caused by camera shake at longer shutter speeds. The QX100 also supports full HD 1080p video capture at 30 fps in the MP4 format. Stereo audio recording is provided by its built-in microphone; in video mode, Active SteadyShot stabilization reduces the jitters caused by moving while recording. Optical zoom is also supported during video recording.
The Sony DSC-QX10 digital camera attaches to a smartphone with the same physical bracket and offers a one-touch link via Wi-Fi with NFC capabilities like the QX100. With the Sony PlayMemories app, you then use your smartphone's display as the camera monitor and touch-control panel. The QX10, however, has a Sony G lens with 10x optical zoom for longer focal length reach. The 35mm equivalent focal length is 25-250mm for wide-angle to telephoto perspectives, and its maximum aperture range is f/3.3-4.9.
http://www.bhphotovideo.com/c/product/1002701-REG/sony_dsc_qx10_b_dsc_qx10_digital_camera_black.html
The sensor on the QX10 is an 18.2MP 1/2.3" Back Side Illuminated Exmor R CMOS sensor and it houses the BIONZ image processor. The sensitivity range of the QX10 is ISO 100-3200, which is further expandable to ISO 12800 for enhanced low-light shooting. Optical SteadyShot image stabilization is supported for effective reduction of blur when shooting at slower shutter speeds. Although aperture-priority mode is not available, program auto, Face Detection, and both Intelligent Auto and Superior Auto with a total of 77 scene modes are provided. Full HD 1080p video at 30 fps in the MP4 format is supported with Active Mode SteadyShot stabilization and stereo sound.
The QX10 offers a very compact form factor, almost half the size and weight of the QX100. In that sense it is ideal for placing on your smartphone and, with its powerful zoom lens and high-resolution sensor, it places sharp, high-quality photos directly onto your smartphone where they are ready for immediate sharing. Additionally, the camera charges via its Micro-USB port, which is conveniently accessible on the camera body. The DSC-QX10 is available in black or white. http://www.bhphotovideo.com/c/product/1002615-REG/sony_dsc_qx10_digital_camera.html
B&H Photo, a qualified Sony Authorized reseller with the most up to date Sony product information, product pricing and individual promotional offers. http://www.bhphotovideo.com/c/browse/Sony/ci/5806/N/4232860313
Connect with B&H Photo on the web! (Facebook, Twitter, Tumblr, Google+, Pinterest, Flickr, YouTube, B&H Insights & InDepth)
About B&H Photo Photo Video
As the world's largest source of photography, video and audio equipment, B&H Photo-Video is known worldwide for their attentive, knowledgeable sales staff, and excellent customer service, including fast and reliable shipping. Visitors to the website can access a variety of enlightening articles and educational videos. B&H has been satisfying customers worldwide for nearly to 40 years. http://www.bhphotovideo.com/