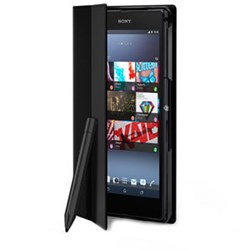 Up to 50% greater battery capacity...
Birmingham (PRWEB UK) 23 October 2013
Mobile Fun have a huge range of accessories for the Sony Xperia Z Ultra available to buy from their virtual store.
The UK's leading online retailer of mobile phone and tablet accessories have hundreds of accessories compatible with Sony's new flagship phablet handset.
Among the specially designed products on offer from Mobile Fun is the Sony CP12 Power Cover for Xperia Z Ultra. Designed in partnership with Sony the CP12 Power Cover gives an extra 3000mah of extra battery capacity and also includes an integrated stand for multiple viewing angles. Made from durable leatherette material and a rubberized interior, which offers protection for the more delicate parts of the Xperia Z Ultra.
The Sony CP12 Power Cover for Xperia Z Ultra is also fully compatible with the Sony DK30 Charging dock offering the convenience of magnetic charging, diminishing the need to open the USB protective cover of the Xperia Z Ultra. The DK30 not only can be used for charging the Xperia Ultra but also can be used with a personal computer as a docking station. This enables you to move files between the Z Ultra and your PC, whilst also charging the device.
For those looking for a little more power in reserve, Mobile Fun also have the Power Jacket 4500mAh for Sony Xperia Z Ultra. This gives the advantage of up to 50% greater battery capacity compared with the Power Cover and also is designed to be as slim as possible while also protecting the handset from the knocks and scratches that can come with everyday life.
Head over to Mobile Fun now to check out all these Sony Xperia Z Ultra accessories along with plenty more.