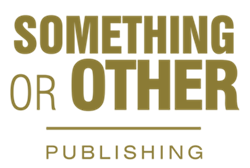 Singh is on track to become the first internationally published sci-fi writer from Trinidad.
Madison, WI (PRWEB) February 27, 2014
Something or Other Publishing (SOOP) may be based in Madison, Wisconsin, but it is quickly developing a distinctly international flavor, signing English-language authors from Serbia, Trinidad, and India -- and American authors with deep international ties.
In late 2013 and early 2014, SOOP held its I Heart SOOP Authors Contest, in which authors who submitted book ideas via the company's unique submission model had the opportunity to earn a publishing contract by finishing as a top-three vote-getter. On February 14, 2014, SOOP named its three winners, two of whom were internationals.
Vivek Kumar, who hails from India, finished in first place for his book of personalized greeting cards, "Hearts on Fire." In second place was a science fiction thriller, "The Time Manipulator's Son," written by Trinidad native Rohini Singh. American Wendy Karasin placed third with "Passing Through."
Singh is on track to become the first internationally published science fiction writer from Trinidad. She is also the first of the contest winners to finalize a contract with SOOP.
"Being the first sci-fi writer from Trinidad is a major accomplishment for me. The imagination is as vast as the universe, just waiting to be filled with ideas and concepts... no matter where a writer originates."
SOOP's international flavor can be traced back to its earlier titles. Wade Fransson's "The People of the Sign," published by SOOP in 2012, chronicles the author's nomadic journey: a domestic childhood kidnapping that took him from the Pacific Northwest to his father's native Sweden, and eventually back to a tent in the Alaskan wilderness and to various other locales in the mainland U.S. and Canada. Fransson ends up living and working all over Europe as a minister in the controversial Worldwide Church of God. His global adventure continues in his sequel, 2014's "The Hardness of the Heart," with some of the book's most important sequences taking place in India.
"Life at 12 College Road," by American author Eric Mondschein, was released by SOOP in late 2013, and achieved #1 Hot New Release status on Amazon.com—just as both of Fransson's titles did. The book is an engaging series of vignettes about growing up in New York in the 1950s, and as such, it is a thoroughly American tale. But even these personal and familiar experiences are told through the lens of Mondschein's international experience, which included many years of living in Israel.
SOOP's first title was 2012's "Genocide Revealed," a stirring account of the long-hidden atrocities committed by Hungarian Nazis in Serbia in 1942. The book was penned by Aleksandar Veljic, a Serbian who has also lived and studied in England and the United States.
SOOP's growing global footprint is something its leadership team embraces. "Our model is different – it's really designed to democratize the publishing process," said Michael Schindler, SOOP's Vice President of Publications. "So discovering voices at all ends of the globe just seems fitting."
About Something or Other Publishing:
Something or Other Publishing, LLC is a new concept in publishing that seeks to connect authors and readers like never before. Its democratized selection process and subsequent focus on author education, empowerment, and encouragement is designed to provide a platform for a new generation of talented writers. The company is based in Madison, Wisconsin.
###