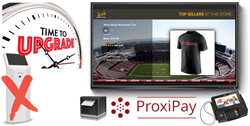 SAN JOSE, Calif. (PRWEB) March 10, 2020
Sophatar introduces ProxiPay™, a patent-pending SaaS solution that combines large-screen digital signage with a standalone payment terminal and a web application to set up sellable products and services with matching signage.
Customers scroll through available items using the touchscreen on the payment terminal and complete purchases via EMV chip & pin, magstripe or NFC/contactless payment methods, while synchronized content is shown on the signage display.
This avoids the expense of a large touchscreen, simplifies ADA compliance since now only the payment terminal needs to be within reach, and enables new use cases in which payment terminals are detached from the display, such as projection displays or video walls.
The solution directly integrates with a major payment processor gateway, avoiding any need to integrate with a separate point-of-sale system. The merchant account is directly credited with any sales from this new revenue channel.
ProxiPay is targeted to retail, hospitality and amusement industries to enable quick purchase and skip-the-line applications. When placing an order with ProxiPay, customers can use any card payment method and receive an email, or, thanks to our integration with receipt printers, a printed receipt slip that then can be used as a pickup voucher. The merchant can monitor sales, and setup sales notifications, via a web-based dashboard.
ProxiPay is the newest addition to Sophatar's growing Proxi.vip proximity engagement platform that consists of sales data ingested from printed sales receipts (SuperReceipt), mobile passes for coupons and loyalty (ProxiPass), virtual concierge (ProxiHost), interactive proximity-based digital signage (ProxiScreen), together with the data analytics on the collected sales and micro-location data. Visit https://www.sophatar.com/products for more info.
Bart DeCanne, founder of Sophatar says: "We are delighted to bring a SaaS solution to market to lower the hardware cost of self-service kiosks by, we estimate, at least 5x since we can use a standard media player, a standard non-touch signage display and a detached payment terminal. ProxiPay is co-developed with a major payment gateway processor and is currently in certification. The software architecture ensures card sensitive data is never exposed outside the payment terminal, avoiding the need for PCI certification of the rest of the system. Furthermore ProxiPay enables 'card-present' transactions which carry lower transaction fees vs mobile payments. ProxiPay fits in any scenario where you want to quickly order from a limited set of products or services, such as at QSR restaurants, to order featured products at a retailer, or for skip-the-line check-in or purchase."
ProxiPay will be on display for the first time at Sophatar booth# 3014 at the Digital Signage Expo, April 1 & 2 at the Las Vegas Convention Center. The first implementation runs on a BrightSign media player that controls both large-screen digital signage and the payment terminal.