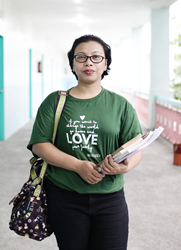 PHILADELPHIA (PRWEB) December 18, 2019
Soroptimist, a global volunteer organization that provides the education and training women and girls need to achieve economic empowerment, awarded seven recipients with its finalist-level Live Your Dream Awards. By providing resources to improve education, skills and employment prospects, the program helps women facing extreme adversity to create better lives for themselves and their families. This year, Soroptimist partnered with the Torrid Foundation to fund the seven $10,000 finalist-level awards.
In 2019, Soroptimist awarded $2.6 million in Live Your Dream Awards to 1,655 women. These women face enormous obstacles including poverty, domestic violence, sex trafficking, and substance abuse. The program is unique in that recipients may use the cash grant to offset any costs associated with their efforts to attain higher education—such as books, childcare, tuition and transportation.
This year's finalists hail from the U.S., Philippines, Brazil and Canada. Visit https://www.soroptimist.org/extraordinary-stories/index.html to meet program recipients and learn their stories of strength and courage.
"We thank Torrid for their commitment to our program, which enables women to transform their lives," said Soroptimist's Executive Director and CEO Elizabeth M. Lucas. "We are so proud of our 1,655 recipients throughout the 21 countries and territories we serve. They inspire us every single day."
Since the Live Your Dream Awards program began in 1972, Soroptimist has disbursed about $35 million in cash awards, helping tens of thousands of women achieve their dreams of a better life for themselves and their families. The Fels Institute of Government, a research and consulting organization based at the University of Pennsylvania, released a study evaluating the program's impact. The report concluded it is highly effective in helping women gain the tools they need to make economic improvements in their lives by increasing their employment prospects and self-esteem. Many recipients create a ripple effect by pursuing careers designed to help women or girls. Recipients are able to free themselves from public assistance while serving as positive role models for their children—leading to stronger communities and nations. Read the Fels study: https://soroptimist.imgix.net/03-our-work/pdfs/FelsCaseStatement.pdf.
The Live Your Dream Awards received the 2017 American Society of Association Executives' Power of A Gold Award, a top-level recognition for associations working toward a better world.
Soroptimist, a global volunteer organization with about 160,000 members and supporters in 21 countries and territories, provides women and girls with access to the education and training they need to achieve economic empowerment. Soroptimist's signature programs, Live Your Dream: Education and Training Awards for Women®, and Dream It, Be It: Career Support for Girls® target women and girls who face obstacles to their future success. Soroptimist also powers LiveYourDream.org®, an online community that provides individual volunteer opportunities in support of women and girls. To learn more, please visit: http://www.soroptimist.org.