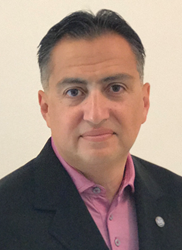 "His experience building best-in-class security programs for international corporations will be an asset for our operations domestically and across Latin America."
Parsippany, NJ (PRWEB) July 28, 2017
SOS Security LLC, one of the nation's largest privately-owned security companies, announced today that Rodolfo "Rudy" Diaz has joined its executive team as Senior Vice President and Regional Director in charge of operations in Florida and Latin America.
Before joining SOS Security, Diaz served as Head of Global Security for Global Foundries, a major semi-conductor enterprise operating across three continents. During his 25-year career he also held executive positions with Hewlett-Packard and Pinkerton Consulting and Investigations.
"I'm excited to welcome Rudy to SOS Security," said SOS Security Chairman and Chief Executive Officer Edward B. Silverman, CPP. "His experience building best-in-class security programs for international corporations will be an asset for our operations domestically and across Latin America."
Diaz served in the United States Marine Corp. He holds a B.A. in Criminology from Marquette University and is a member of the ASIS, Overseas Security Advisory Council, Domestic Security Alliance Council, Northern California Regional Intelligence Center, and the Counter Terrorism Forum sponsored by NYPD.
About SOS Security LLC
Founded in 1969, SOS Security is one of the largest privately-owned security companies in the U.S. with more than 8,000 security professionals working domestically and around the world through foreign regional joint ventures and strategic partners. A proven leader in the Security and Protective Services Industry, SOS Security is headquartered in Parsippany, NJ and has offices throughout the United States and resources throughout the world.
SOS Security's business lines include Executive/Close Protection services for Fortune 1000 corporate executives and high-profile individuals around the world; Investigative, Management and Consulting Services; as well as Fire/ Life Safety Services. In addition, SOS Security provides highly qualified and trained security officers for clients in various industries such as: Technology/ Communications; Government; Embassies and Consulates; Public Utilities; Education Facilities/Campus Security; Hospitality/Leisure/Hotels, Retail/Shopping Centers; Media/Entertainment; Commercial/ Residential Real Estate; Pharmaceutical/Healthcare/ Hospitals; Manufacturing/Warehouse/Distribution; and Financial/Banking.
Learn more about SOS Security's capabilities and careers at sossecurity.com.