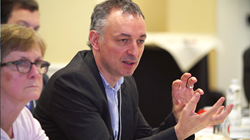 "Right now, this endeavor needs people and organizations with a vivid vision of the future willing to provide the seed money to fund research grants to ensure steady progress." -- Dr. Ronald G. Landes, SOS President
Austin, Texas (PRWEB) July 16, 2015
Solving Organ Shortage today announced the Phase One Strategic Research Goals adopted by its Whole Lung Research Community—a group of subject-matter experts from multiple scientific disciplines collaborating to provide a holistic approach to lung regeneration and tissue engineering. The five initiatives are designed to focus the field and speed progress toward developing protocols and therapies aimed at regenerating failing lungs and engineering organs for use in human transplantation.
Click here to view Phase One Strategic Research Goals.
"One of the keys to tackling a complex project like this is breaking it down into components that are achievable," said Dr. Laura Niklason, professor of biomedical engineering at Yale University and SOS Chief Science Coordinator for the lung. "In addition to needing researchers with different expertise working on different aspects of the problem, we need specific near-term goals that focus our efforts."
SOS endeavors to foster close scientific collaboration to overcome the complex biological, bioengineering and clinical challenges involved in regenerating or building a functional organ for transplant. "We've launched three organ-specific research communities to date – liver, lung and kidney – and plan to form one for the heart in 2016," said Dr. Ronald Landes, president of SOS. "We believe we can advance the science faster by adopting a science-driven research strategy and by capitalizing on the fact there is developmental overlap among different organ systems and core issues common to all of them."
Click here to see SOS progress to date.
According to Dr. Niklason, the first scientist to engineer lungs capable of exchanging oxygen and carbon dioxide, remarkable progress has been made over the past several years using regenerative medicine approaches to engineer solid organs. Proof-of-concept has been established in rodent models, and other engineered organs (bladder, trachea) have already been tested in humans.
"Investment during this early stage is crucial," said Dr. Landes. "Right now, this endeavor needs people and organizations with a vivid vision of the future willing to provide the seed money to fund research grants to ensure steady progress."
About Solving Organ Shortage
SOS is a global nonprofit organization whose mission is to advance a novel, science-driven effort to regenerate or engineer replacement organs for transplantation by funding strategic, high-impact research initiatives. SOS State-of-the-Science Summits convene the world's top clinicians and academic investigators in solid organ biology, regeneration and bioengineering to foster transdisciplinary collaborations on strategic research goals. SOS adds its energies to the broad-based constituency of organizations already working to ensure life-saving organs are readily available. For the latest SOS news and information please visit http://www.SolvingOrganShortage.org or follow us on Twitter.