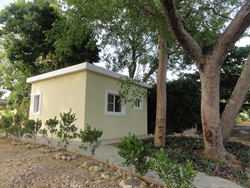 Beautiful place for year round swimming, snorkeling, spear-hunting, surfing.
Waterloo, Ontario (PRWEB) December 31, 2014
Canadian tech-company, Siborg Systems Inc., the company behind the popular Smart Tweezers LCR-meters, and MicroTec software for semiconductor process and device simulation has now begun offering rental properties in Sosua and Playa Laguna, Dominican Republic. Both properties are viewable, with an interactive calendar, are available at Sosua Rentals website.
Los Balcones Apartment, overlooking the Alicia beach, the bset beach in Sosua, will eventually be open for rentals. This one bedroom condo sits above the ocean on a cliff, offering stunning views ocean from the balcony. A large private garden with pool and cliff-side hot tub with access to the sandy beach below offers guests a secluded vacation while still being in the city centre of Sosua. The condo has a full kitchen, internet, TV, air conditioning and 4 piece bathroom. Los Balcones will be available to rent for $1500/USD during the "high-season" (November-May), and $700 USD a week. The utilities are included in the weekly-stay package, and is dependent on useage for the month. Close to all amenities, and only 10-15 minute drive from Puerto Plata International Airport, Los Balcones offers guests many options for day trips and nightlife.
La Casita Rental is the primary rental property. Located in Playa Laguna, La Casita sits on private property only a few minutes walk from the beach through a semi-private access. Only a 15-20 minute drive from Puerto Plata International Airport (POP), La Casita is inside a gated community with 24 hour security, while still being near amenities. The 275 sq. ft. free-standing studio has a kitchenette, 4 piece bathroom and a living room/bedroom, with an outdoor shower steps away. The property is lined with trees and local foliage to provide total privacy.
Nearby, there are all sorts of activities and amenities for guest, including;
-Restaurants
-Zoo and Animal Tours
-Whale Watching
-Eco-tourism
-Horseback riding
-Kayaking
-Bird watching
-Festivals
-Grocery Stores
-Hospital and Medical Services
-ATM/Banks
-Winery Tours
-Spas
-Nightlife in Sosua
-Mountain Biking
-Parasailing
-Surfing
-Casinos
-Deepsea, Surf, Freshwater and Fly Fishing
-Shopping
-Theme parks
-Water Park at Ocean World, with aquarium, wildlife exhibits and shows, rainforest walks, educational programs and other exciting options for a day trip
-Close to Cabarete, which is known for its nightlife
Priced competitively, La Casita is available for monthly or weekly rentals. For one month, during the "high season" (November to May), La Casita can be rented for $800 USD, or $600 in the off-season. A 25% security fee is required upon booking, which can be refunded up to 30 days before arrival. There is no recurring maid service during the stay, but it can be negotiated upon if needed. Utilities are included, though the space does not have A/C.
Visit Sosua Rentals website to see the property listings, including pictures and rental calendar dates.
About Siborg Systems Inc.
Established in 1994, the main objective of Siborg Systems Inc. is the development and production of different kinds of scientific software. With more than 25 years of experience in computational physics and more than 17 years in semiconductor device modelling. Located in the city of Waterloo, Ontario, Canada, it enjoys being a part of the local world-renowned high-tech community.
Contact Info:
Siborg Systems Inc.
24 Combermere Crescent
Waterloo, Ontario N2L 5B1
Canada
Phone: (519) 888-9906
http://www.siborg.com.do