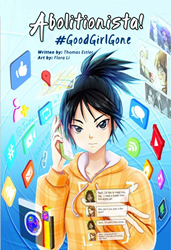 Soter will bring the Abolitionista! workshops to their partner schools nationwide, enhancing Saving Jane's reach while adding additional resources to Soter's safety focused offerings.
RONKONKOMA, N.Y. and LAS VEGAS (PRWEB) March 15, 2023
Saving Jane, a non-profit dedicated to empowering human trafficking survivors and preventing new victims, especially children, and Soter Technologies, a leading technology company in the K-12 education space and creator of the world's first vape detection technology, announced a strategic partnership to educate children about the dangers of human trafficking, the warning signs of recruitment conversations, the hazards of online predators and how to safely communicate with trusted adults.
According to the International Labour Organization, about 50 million people worldwide are currently being trafficked. As of September 2022, the latest estimates indicate that 22 million people are in forced marriages and approximately 28 million individuals are involved in forced labor, with 17.3 million people experiencing forced labor in private sector industries and 6.3 million experiencing forced commercial sexual exploitation. According to estimates from the ILO, the forced labor industry accounts for in excess of $150 billion a year worldwide.
The partnership between Soter Technologies and Saving Jane will promote awareness of the scale and dangers of human trafficking against children and young people. In-school, instructor-led workshops using Saving Jane's "Abolitionista!" manga-style graphic novels, equipping young people with the tools required for their own protection by empowering them to recognize the signs of human trafficking and report its occurrence to trusted adults.
Soter will bring the Abolitionista! workshops to their partner schools nationwide, enhancing Saving Jane's reach while adding additional resources to Soter's safety focused offerings. Currently, the company has an effective "NO Vape" education program that includes books, games, apps and educational materials for parents, teachers and schools.
"Soter will spread our workshops to schools across the United States. Without education, children are not be able to spot the signs of human trafficking and are therefore unable to protect themselves," said Kathyann Powell, CEO and Founder of Saving Jane. "According to the Trafficking In Persons Report from the Department of State, the vast majority of human trafficking reports and convictions in the United States are where victims are trapped in sex trafficking, whereas the International Labour Organization reports indicate that non-domestic forced labor trafficking worldwide is much more common. Our workshops cover both major scenarios but we really focus on helping children identify and avoid getting trapped by sexual predators."
"Over the past five years, we have brought our health safety technology and effective awareness programs to thousands of schools. Saving Jane's mission, creative teaching materials and approach fit well with ours. Adding their materials to our resource center will enhance our offerings and assist schools to educate young people, parents and teachers with the goal of preventing incidents. The best way to combat those who would abuse or exploit children is to educate students and communities about the dangers that exist," said Derek Peterson, founder and CEO of Soter Technologies.
For more information or to learn more about Saving Jane, please visit https://www.savingjane.org/
For more information about Soter Technologies, please visit: https://www.sotertechnologies.com
###
About Saving Jane
Saving Jane aims to end human trafficking by raising awareness through educating the general public, supporting impacted individuals, and creating protective systems, technologies, and policies, to prevent the creation of situations that encourage trafficking.
About Soter Technologies
Our team at Soter Technologies has delivered hundreds of technical solutions for a variety of industries. Backed by decades of experience and dedication to product design, we now deliver the most comprehensive safety and security products on the market to K-12 institutions. Our caring for the communities around us is the foundation of our passion for applying cutting-edge technology to improve and save lives. The Soter name is inspired by Greek mythology wherein Soter is the personification of safety, deliverance, and preservation from harm. Using advanced sensor and software technology, Soter Technologies develops and delivers innovative solutions for environmental and social intelligence – to make the world a safer place. Our products and services impact thousands of K-12 institutions and have a proven record of identifying and averting threats – including being credited with saving the lives of students who were contemplating suicide.