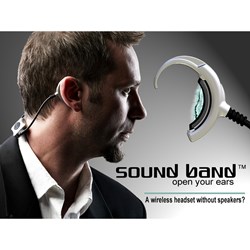 We want to see a Sound Band™ ad during the Big Game in 2014, but we need the help of innovation lovers, and their friends, to help us get there.
Traverse City, Michican (PRWEB) October 03, 2013
Hybra Advance Technology (Hybra) has announced its progression to the second round of Intuit's Small Business Big Game contest. If successful, Hybra will use the 30 second ad to promote its unique Sound Band™ headset, which produces audio without using speakers.
In making the announcement, the Michigan-based technology development company has thanked those who have already voted for it, and encourages them to continue to do so, daily, and to spread the word via their favorite social media platforms.
"The competition is very much consumer-votes-based, and it's not a 'vote once and its done' system." said Ryan Wells, Managing Director of Hybra. "Supporters can vote for us every day, and Intuit has made it very easy to share via various social media platforms; naturally we encourage our supporters to do just that!"
"We want to see a Sound Band™ ad during the Big Game in 2014, but we need the help of innovation lovers, and their friends, to help us get there. Making it into to Stage 3 means that we will be among the Top 20 contenders for the prize - and that's where we want to be!"
Supporters can vote for Sound Band on the Intuit Small Business Big Game website (https://www.smallbusinessbiggame.com/MI/Hybra-Advance-Technology-Inc/386770).
Crowd Support
Hybra has already received a groundswell of support for Sound Band™ through a Kickstarter.com crowd-funding campaign. Almost 4000 people from all around the world recognized the potential of the cutting-edge technology in Sound Band™, and they pledged a total of $547,125 to help bring the innovative headset to market.
"For a small company this was a huge result, and it has allowed us to develop and manufacture a truly innovative product that will change the headset market forever," said Mr. Wells. "And now, with this once-in-a-lifetime opportunity to advertise Sound Band™ during the Big Game - well, it will take us into a whole new audience."
"The support of those who love innovation and new technology has been invaluable, but to be able to reach out to an audience of the size that the Big Game delivers - well, that will be priceless."
"To help us move to the next round, we are encouraging people to vote at https://www.smallbusinessbiggame.com/MI/Hybra-Advance-Technology-Inc/386770 and to share the link on that page with their friends, encouraging them too to vote for us."
Voting in Round 2 of the Intuit Small Business Big Game competition ends on October 13.
About Hybra
Hybra is a product development company headquartered in Traverse City, Michigan. Dedication to excellence, continuous improvement, on-going research into emerging technologies, and a firm belief in the entrepreneurial spirit are the driving forces behind our commitment to technology development.
Hybra's core facility in Traverse City embodies the spirit of forward thinking and enables collaborative innovation through unique ideation laboratories, conversation spaces, and modeling/design workshops.
A network of international support is complemented by a dynamic staff experienced in design, mechanical and electrical engineering, material science, software/firmware development, graphic design, and low-cost full manufacturing capabilities.
Hybra recently raised over $547,000 through crowd-funding platform, Kickstarter.com, to bring to market its latest product, Sound Band™.
HybraTech.com
About Sound Band™
Sound Band™ is the long-awaited solution to ear buds. It is a wireless headset that uses surface sound technology (not speakers) to deliver sound to both ears, while leaving the user's ears open to the ambient environment. With Sound Band™ there is no longer any need to remove your ear buds to have a conversation, order your third grande latte of the morning, or listen for your stop on the train! With Sound Band™, you can still hear the world around you, but the world around you cannot hear your Sound Band™.
Perfect for music, gaming, phone calls, video conferencing, intra-office communications, GPS, audio books, news feeds, meeting reminders, or any other wireless personal audio, Sound Band™ is (literally and figuratively) ready to rock the marketplace .
SoundBand.com