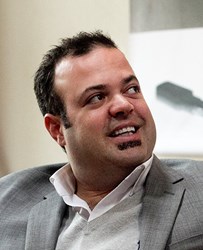 We are confident that Sound Band is now truly going to revolutionize personal audio forever, and we're focused on impressing and delighting our current and future backers
Traverse City, Michigan (PRWEB) August 29, 2013
Michigan-based technology company, Hybra Advance Technology (Hybra) has announced the achievement of its Sound Band™ Kickstarter campaign stretch goal, which will allow several key upgrades to the headset ahead of the product's launch.
Passing its minimum funding goal of $175k just five days into the campaign, the Hybra team closely monitored the comments and feedback from its early-adopter backers.
"The comments left on our Sound Band™ Kickstarter Campaign page have been insightful, challenging, and thought-provoking" said Ryan Wells, Managing Director of Hybra. "And it was this feedback that was the impetus for creating a stretch goal of $400,000 - a goal that we are excited to announce has now been surpassed."
The campaign remains very active, with backers from all around the world, and does not close until September 13.
Sound Band™ Wired Option
One of the most requested upgrades, said Mr. Wells, was for Sound Band™ to have a wired option, and the stretch goal funding has made this a reality.
"Sound Band™ will now include a 3.5-mm jack, which will enable it to be used as a wired headset or a wireless headset - one headset, two ways to use it!" he said. "This improved functionality also allows for charging while in-use."
Upgraded Chip Package
The second key advancement is an upgraded chip package which will deliver a longer battery life - and a leaner and more efficient Sound Band™.
Hardshell Carrying Case for Kickstarter Backers
To thank its Kickstarter backers, past, present, and future, Hybra has also announced that each backer receiving a Sound Band™ will receive a special hardshell carrying case.
"It has been invaluable to see and hear first-hand how our Kickstarter backers will be using their Sound Band, and what features will make them love their new headset even more" said Mr. Wells. "And we want to thank them in a practical way by including a hardshell carrying case for their Sound Band - to keep their new headset safe when it's not on their heads.
"We are confident that Sound Band is now truly going to revolutionize personal audio forever, and we're focused on impressing and delighting our current and future backers."
Hybra's Sound Band™ Kickstarter campaign continues until September 13, with details available at http://www.kickstarter.com/projects/hybratech/sound-band-finally-a-headset-without-speakers
About Hybra
Hybra is a product development company headquartered in Traverse City, Michigan. Dedication to excellence, continuous improvement, on-going research into emerging technologies, and a firm belief in the entrepreneurial spirit are the driving forces behind our commitment to technology development.
Hybra's core facility in Traverse City embodies the spirit of forward thinking and enables collaborative innovation through unique ideation laboratories, conversation spaces, and modeling/design workshops.
A network of international support is complemented by a dynamic staff experienced in design, mechanical and electrical engineering, material science, software/firmware development, graphic design, and low-cost full manufacturing capabilities.
HybraTech.com
About Sound Band™
Sound Band™ is the long-awaited solution to ear buds. It is a wireless headset that uses surface sound technology (not speakers) to deliver sound to both ears, while leaving ears open to the ambient environment. With Sound Band™ there is no longer any need to remove your ear buds to have a conversation, order your third grande latte of the morning, or listen for your stop on the train! With Sound Band™, you can still hear the world around you, but the world around you cannot hear your Sound Band™.
Perfect for music, gaming, phone calls, video conferencing, intra-office communications, GPS, audio books, news feeds, meeting reminders, or any other wireless personal audio, Sound Band™ is (literally and figuratively) ready to rock the marketplace - starting with its Kickstarter crowd-funding campaign at http://www.kickstarter.com/projects/hybratech/sound-band-finally-a-headset-without-speakers
SoundBand.com