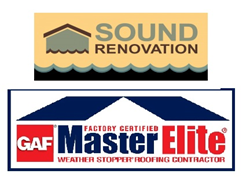 We spare no expense in ensuring our customers are happy and completely satisfied with the quality of our work, performing every installation and repair careful, getting the job done right the first time! – Jim DePascuale, President, Sound Renovation
Norwalk, CT (PRWEB) June 09, 2016
Sound Renovation (http://www.roofingcontractorct.com) earns GAF Master Elite Roofing Contractor status and boasts 5-star customer reviews! As a certified GAF Master Elite Roofing Contractor, Sound Renovation ranks among the top three percent of roofing contractors in North America, a fact to which their customer ratings attest.
In addition to these accolades, Sound Renovation is also Better Business Bureau A+ Accredited, likely a result of their commitment to their customers and the GAF's standards for excellence including proper state licensing and insurance, a respectable reputation, and ongoing technical training.
"At Sound Renovation, we strive to provide their customers with reliable services at affordable prices. Additionally, we uphold a certain degree of dedication that we put into every project we perform, and that fact makes us stand out," said Jim DePascuale, President of Sound Renovation.
Sound Renovation serves Norwalk, Stamford, Greenwich and the surrounding area with unparalleled quality, outstanding service, and affordable pricing. In addition to delivering exceptional Norwalk roofing installation and repair, Sound Renovation promises excellence in windows, siding, gutters, and solar panel installation and repair.
"In our years of service to the community, we have learned what makes a good company great. We spare no expense in ensuring our customers are happy and completely satisfied with the quality of our work, performing every installation and repair careful, getting the job done right the first time!" said Jim DePascuale, President of Sound Renovation.
Sound Renovation was founded with the goal of providing each and every client with the reliable, affordable, quality home improvement services they deserve. Hoping to make a positive difference in Norwalk roofing services, Sound Renovation focuses on delivering timely service and outstanding quality regardless of the size of the project.
About Sound Renovation:
Sound Renovation was founded in 2002 by Jim DePasquale, with a vision for delivering dependable quality service that each and every customer deserves. As a local, family owned business, Sound Renovation is dedicated to the promise of premium quality and outstanding service for their customers, who are, in reality, their friends and neighbors. Sound Renovation has built their reputation as honest and trustworthy experts in the field, a fact which their customer reviews and industry accolades demonstrate, and a fact which is backed up by the Sound Renovation warranty options.
Sound Renovation LLC, 35 Shorefront Park, Norwalk, CT 06854, Phone: (203) 838-2128, http://www.roofingcontractorct.com/