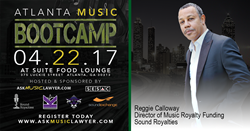 Atlanta, GA (PRWEB) April 20, 2017
Sound Royalties, LLC announced today that its Director of Music Royalty Funding Reggie Calloway will moderate a key panel at the Atlanta Music Bootcamp, taking place this Saturday, April 22 at Suite Food Lounge, 375 Luckie St. in Atlanta, Georgia. Calloway's panel discussion, entitled "How to Succeed as an Independent Artist," will be held at 2 p.m. He is also available to meet with local songwriters, artists, and producers to discuss how Sound Royalties might be able to help them advance their careers.
In addition to his work with Sound Royalties, Calloway is well known for founding the popular Techno-funk band "Midnight Star." He is a five-time Grammy nominee, including a nomination for R&B Songwriter of the Year for his hit song "Casanova."
Atlanta Music Bootcamp is hosted by respected Atlanta-area music attorney and co-founder of Black Entertainment and Sports Lawyers Association (BESLA) Kendall Minter. Sound Royalties is proud to be a co-sponsor of this anticipated event.
An innovative specialty financing firm tailored to the needs of music professionals, Sound Royalties offers fresh, new financing strategies that fuel clients' creativity and provide them the freedom and flexibility to chase their dreams. Far different from the industry's typical options forcing music professionals to sell the rights to their music in perpetuity, Sound Royalties offers non-credit based advances that provide upfront funds based on future earnings and allows creatives to retain rights to their music.
Media or Atlanta-area musicians interested in speaking with Calloway should contact Pamela Armstrong at pamela(at)redbanyan(dot)com or 954-379-2115 x1.
About Sound Royalties
Founded by CEO Alex Heiche, Sound Royalties, LLC is a privately owned and funded one-stop source that helps music industry professionals get upfront cash based on future earnings potential while allowing the music professionals to retain the rights to their music and royalties. The company's core business is offering noncredit-based advances and funding of anywhere from $5,000 to $10 million without having to deal with banks or traditional lenders, while preserving all rights to the artist's music. To date, Sound Royalties, LLC has worked with a wide range of leading music industry professionals, including Grammy Award winners, platinum recording artists and notable music industry executives in every genre.