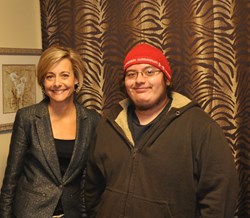 Thanks to the amazing technology available from Widex, this gift will make a profound difference in Mark's life.
Highlands Ranch, Colorado (PRWEB) December 31, 2013
When Dr. Julie Prutsman and her husband Patrick, owners of Sound Relief Hearing Center in Highlands Ranch, opened their audiology practice in January 2012, they knew that they could make a difference in their community. One way they have been able to serve the community is through their "Give the Gift of Better Hearing Contest".
"Nothing is more difficult to me as an audiologist and healthcare practitioner than being confronted with an individual who is hearing impaired but who does not have the sufficient financial resources to better their lives," said Dr. Julie Prutsman, owner and founder of Sound Relief Hearing Center. "Hearing loss affects not only the person afflicted but also their family, their job, and their friends. Through our 'Gift of Better Hearing' contest, we can help." In last year's giveaway, we had two ladies receive over 1,200 votes each. "We really had no choice but to award each of those participants a pair of digital hearing aids, and we are blessed to be able to help in such a meaningful way."
The contest was conducted via Facebook, and participants were able to nominate themselves or a loved one to win a free hearing evaluation and pair of custom fit digital hearing aids for the holidays, a $3,000 value. The winner was determined by the nominee with the greatest number of votes. Pictures of the nominee were not necessary but encouraged to get the most votes. Facebook Fans were able to vote once every day for as many of the nominees as they chose. Voting began November 29th and ended December 12th at noon. This year's nominees received well over 2,000 votes.
The winner of the Second Annual Gift of Better Hearing contest, with over 1,000 votes, is Mark Montes. He is a 22 year old Denver native who was born with severe hearing loss. From an early age, his hearing loss caused him trouble with friends, family, and the police. According to his mother Valerie, "He doesn't go anywhere. His friends invite him to go out, but he will stay home instead of dealing with the communication gap. He has been wearing 'loaner' hearing aids for years, and the waiting list for Vocational Rehab is 24 months."
After being fit with the latest technology from Widex, Mark's mom says, "When we got home Mark was so excited about his new hearing aids. He's been showing them to everyone and telling them how much better and clearer he can hear everything now. I am happy and excited for him. I haven't seen him this happy in a long time."
"I am thrilled for Mark and his family," mentions Dr. Julie. "This gift will make a profound difference in his life."
Dr. Julie and Sound Relief Hearing Center are also active in the community in other ways. They have participated in several 9Health Fairs around Denver, and this summer Dr. Julie rappelled down 28-stories to raise $5,000 in the Cancer League of Colorado's Over the Edge event. In October 2013, in conjunction with the Colorado Gerontological Society, Dr. Julie provided a free hearing exam and a pair of hearing aids to Helen Trujillo as a part of Make A Difference Day.
About Sound Relief Hearing Center
Sound Relief Hearing Center is a family-owned-and-operated audiology practice with a rich family history in the hearing health industry. Representing the family's second and third generation respectively, this mother/daughter team of hearing professionals has a combined 45 years of experience in providing the best possible hearing care to Colorado. With offices in Centennial and Highlands Ranch, Sound Relief Hearing Center offers a full range of diagnostic and preventative hearing health services, including tinnitus testing and treatment, hearing screening, evaluations, hearing aid sales, and rehabilitative and preventative counseling.