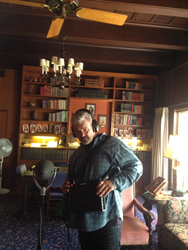 Sound is very essential and an important aspect to the success of a film. The audience can be forgiving with a less than perfect picture, but not with sound.
Washington, D.C. (PRWEB) March 18, 2015
Hearing is our most prominent sense. Unlike the visual, sound is a 360-degree omnipresent experience that surrounds us constantly. MZed and Frank Serafine bring to you The Sound Advice Tour. During this 33-city tour attendees will be exposed to an overview of the roles sound plays in a film, web, and broadcast production. Designed for filmmakers, editors, and aspiring sound engineers, this workshop will cover all the techniques and tools needed to expand skills and give attendees a solid foundation to effectively use sound, in a variety of projects.
Frank's workshop will teach attendees how to implement important functions including: sound recording, sound editing, sound effects, soundtrack, sound mixing, sound design and sound inspiration. Sound alone takes credit for 70% of a movie's success and, unlike visual presentation sound is a 360-degree experience that surrounds us constantly. Having already done tours on cinematography, editing and directing, MZed created the Sound Advice tour to showcase the importance of mastering sound design for filmmakers.
In the past MZed has partnered up with many noteworthy instructors on filmmaking tours such as, Alex Buono, Adam Epstein, Shane Hurlbut and Vincent-Laforet.
Join Frank on this 33-city tour, which will run from April 26th through July 2nd 2015. The tour features a daytime interactive workshop from 9am-7:30pm. Geared towards all levels of filmmakers, this workshop is ideal for sound designers of all stripes.
About MZed: Through educational workshops and online downloads MZed creates a community where filmmakers, designers, and photographers can form rewarding relationships, while learning from world-class instructors in these fields.
About Frank Serafine: As one of Hollywood's top sound designers, Frank Serafine is an academy award-winning sound designer who has created sounds for television shows, video games and major motion pictures. In 1979, Frank Serafine started his first project as a sound editor, where he did all of the sound for the visual effects in Star Trek. The technology and ideas that he contributed to the making of Star Trek: The Motion Picture was revolutionary for the film industry.
Today, Frank Serafine builds his library of recorded sound effects and licenses them to filmmakers. His vast library contains an endless selection of sounds ranging from the simple bark of the dog, to complex sounds of the future. Many of the noises found in his library have been used in major motion pictures, including the first Lord of The Rings.
For more information on Frank Serafine's Sound Advice Tour visit: http://www.SoundAdviceTour.com