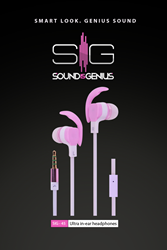 Experience clear, powerful and well balanced 360 sound. Lightweight whether in or around the ear, fit for all day comfort.
Atlanta, Georgia (PRWEB) October 13, 2015
Sound Is Genius Electronics Inc. a subsidiary of SIG Group Enterprise Inc. introduces its new line of high quality genius headphones. SIG products represents a significant and unique design, focusing on durability and comfort. SIG's mission is to deliver a unique groundbreaking sound experience. The company will launch globally October 15, 2015. Products are currently sold in the US and are also available online.
The initial focus of SIG is the people, process and then the advance technology. People require comfort and satisfaction so the headphones sit comfortably both on and in-ear with a smart clear balanced sound. The fashionable on-ear headphones are noticeable by the SIG signature stripes.
SIG Chief Designer Officer, Siegfried Jalink of the Netherlands has been in electronics industry for over 20 years where he started at IBM in Amsterdam. Siegfried believes that sound should be balanced in both ears to create the proper effect. "Sound heals, make you happy and soothes, there are two channels of sound waves in the ear and I wanted to perfect it," stated Siegfried. All SIG headphones and earphones sound are unique and not piercing and free of any distortion.
Branding opportunity is also a key component and the company also provides signature brand products for celebrities, corporations and anyone who is interested in starting their own product line. The company offers marketing support for example artists are granted tour support as this is considered a joint venture.
SIG's CEO, Dawn Simpson is a graduate from New York University with an extensive background in the music business and finance. SIG's marketing officer is Christopher St John who previously ran marketing for Rick Ross' label Maybach Music.
To learn more:
1-800-975-5420 ext 4 I http://www.soundisgenius.com I info(at)sound-is-genius(dot)com