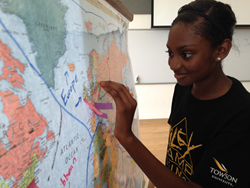 "It really allowed me to visualize the countries when learning about them" - Baltimore City Student
Baltimore, MD (PRWEB) March 04, 2015
Revolution Rhythm, LLC announces Baltimore City Public Schools' adoption of its arts integrated world geography/social studies program, Sounds Around the World (SAW). At the center of the SAW protocol is an innovative game, combining global music, team competition, and specialty maps, that offers outstanding student motivation and proven educational outcomes. In addition to supporting NCSS C-3 and Common Core Standards for Social Studies, SAW's collaborative-learning format equips students with essential 21st century skills.
Sounds Around the World has already received enthusiastic teacher feedback. One teacher from Howard County, MD commented: "... I just played [SAW] with my 11th grade regular Modern World History class....They absolutely loved it! ....I am looking forward to using it more in my classes this year!" A Seattle, WA teacher wrote, "[There was] engagement from almost all students, only 3 out of 150 were distracted somewhere….I loved it, my students really enjoyed it and it was well worth the price!!!!"
Designed for middle and high school students, SAW has been played by students from diverse backgrounds in a wide-variety of learning environments. The protocol employs the gap theory of education, which recognizes curiosity and the desire to fill in knowledge gaps as powerful motivators for learning. Students have said, "It really allowed me to visualize the countries when learning about them", "It helped me to connect the regions culturally, as opposed to strictly physically", "Learning countries while listening to music was fun!"
SAW was designed by Baltimore musician, music therapist, and owner of Revolution Rhythm, LLC, Jason Armstrong Baker. Baker says, "I know this program will be highly beneficial and engaging to the students in Baltimore City Public Schools. Just as music is used in movies to transport us to different places and times, music can be used in the classroom. It bridges the student at her desk to cultures in all corners of the world."
SAW will be presented at the National Council for Geography Education in Washington D.C. in August 2015.
Teacher's kits are available at http://getsoundsaround.com Each kit includes: CD with 37 world music tracks and their liner notes; 10 color-coded geo-musical maps; 111 geography hints; a music origins answer key; 16 page teacher's guide; and Geo-musical world coloring maps.
About Revolution Rhythm
Revolution Rhythm, LLC utilizes the art and science of music to engage and inspire people and organizations. The company designs and implements educational programs, music therapy services, and team-building and wellness workshops to meet the specific goals of organizations of all kinds. Currently, owner Jason Armstrong Baker MT-BC provides music therapy services throughout the Baltimore region, including Howard County Public Schools, VA Maryland Health Care System, and Paul's Place in Pigtown. He is also Music Coordinator at Towson University's Department of Dance and was formerly a staff music therapist at Sheppard Pratt Hospital in Towson.
###
For more information, or to schedule an interview with Jason Armstrong Baker, please call Jason at 443-538-2781 or email jabaker(at)getsoundsaround(dot)com