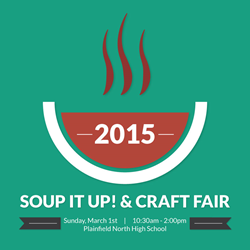 Enjoy soup from local area restaurants to support a charitable cause!
Plainfield, IL (PRWEB) February 07, 2015
The Kiwanis Club of Plainfield announces their 9th annual fundraising event, Soup It Up! and craft fair event. The event will take place on Sunday, March 1, 2015 from 10:30am until 2:00pm at Plainfield North High School in Plainfield, IL. The event is open to the public and cost is $6 for adults and $4 for children.
Each year, more than 400 people attend Soup It Up! and help the Kiwanis Club of Plainfield raise money for local students heading to college. More than 600 attendees are expected to attend this year. In addition to it being a social activity and fundraiser, it is a great opportunity to enjoy some soup from local restaurants, shop the local craft vendors, enjoy performances by the Plainfield Dance Academy and the YMCA dancers and win big in the raffle.
Attendees of the event receive delicious soup from our participating restaurants as well as salad and bread. The participating restaurants that have graciously donated soup include Southern Belle's, Delicia Mexican Grill, Nabby's, Larry's Diner, Westfield Family Restaurant, Fox's Pub, Katie O'Connor's Pint House & Eatery, Penalty Box Bar & Grill, Durbin's of Plainfield, Sovereign, Nevin's Brewing Company and possibly more.
The Kiwanis Club of Plainfield is dedicated to changing the world one child and one community at a time. All proceeds from the Kiwanis Club of Plainfield's Soups It Up! event go towards a college scholarship fund for graduating Plainfield area students.
Sponsors of the event include Rod Baker Ford, BKS Systems, Painters USA, HealthSource of Plainfield, Idea Marketing Group.
For further information or to find out more about sponsorship, participating as a restaurant, craft vendor or volunteer, please contact Debby Holstead at (630) 357-8385 or debby(at)bksteam(dot)com.
Download the poster and print for your location here.
Idea Marketing Group is a web design and marketing firm located near Chicago, IL. Since 2009, Idea strives to provide creative, unique and cutting-edge websites along with individualized goal-driven marketing. Clients choose Idea Marketing for award winning web design and marketing services from an experienced and passionate web team that helps grow businesses and excel non-profit causes. To learn more about Idea Marketing, visit http://www.ideamktg.com or call 312.834.7001.