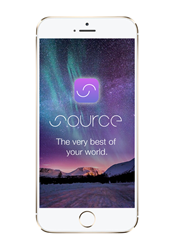 I wanted to create a way for people with similar tastes and preferences, to be able to connect and make recommendations for each other.
MIAMI, FL (PRWEB) July 07, 2015
Source, a new mobile platform, is designed to connect sports fans from across the country and let them know where they can find fellow fans to watch the game, no matter where they find themselves. The mobile platform takes users' preferred sports team and is then able to recommend the best bar for them to meet fellow fans and enjoy a sense of community while watching the game. Currently, Source is running a crowdfunding campaign on Indiegogo to raise funds to make this platform a reality.
Source is offering to let fans in at the ground floor by running a crowdfunding campaign so they can fund the creation of the new mobile platform. The platform will help all sports fans, not just NFL fans, to find the perfect place to support their team in every city.
"The idea for Source came to me when I was traveling abroad to America and wanted to watch a football match that was happening in the UK," said Simon Thomson, the founder of Source. "I was struck by how difficult it was for me to connect with other fans when in a new city. I wanted to create a way for people with similar tastes and preferences to connect and make recommendations for each other."
Source, in its early stages, will serve as a way for sports fans to connect with each other in any city across the world. However, Thomson plans to expand the platform to allow people with all-around similar interests a way to connect and give recommendations based on what users are looking to find. This will include bars, restaurants, pubs, nightlife, hotels and much more. Source will take the anxiety out of exploring new cities by learning what users like, recommending places that fit that criteria, and remembering these places for future visits.
To gain capital to build the final version of Source, the team has started a crowdfunding campaign that is now live on Indiegogo. The funding goal for the campaign is $25,000 with rewards at many different funding levels. To learn more about Source and the Indiegogo campaign, visit bit.ly/SourceIndie or email media@sourceyourworld.com.
ABOUT SOURCE
Source is a marketing company based in London and recently relocated to Miami, FL. Led by entrepreneur Simon Thomson, the company has spent the past three years developing and perfecting the technology for the Source platform. The mission behind Source is to make finding people of similar interests easier. Source believes that with the creation of this platform, the world can become a more manageable place and connections can be made between strangers that would have never been made before. Find. Discover. Know. Rate. Remember. Source your world. To learn more, visit http://www.sourceyourworld.com.