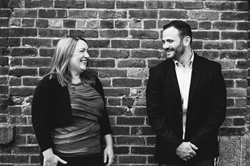 "We will focus on driving growth for our clients through a balance of technology and consumer engagement"
New York, New York (PRWEB) September 06, 2017
Launching today, SourceCode Communications will cater to high-growth technology businesses by combining technology and integrated marketing solutions with high-touch client partnership. Founded by award-winning former member of Hotwire North America's Executive team, Rebecca Honeyman and longtime communications agency practitioner and business development leader, Greg Mondshein, the agency will provide growth marketing and communications solutions as well as brand credibility campaigns for its partners.
The agency opens its doors with a portfolio of campaigns already underway for enterprise and consumer tech clients, and will initially focus activity across campaigns to support mobile and telecoms, enterprise software, fintech and consumer and lifestyle businesses. Based on a wealth of experience gained leading strategic client campaigns, both internationally and in North America, the team will recalibrate client and commercial engagements to inject more of the human element into campaigns.
Co-Founder Greg Mondshein explains: "The wealth of marketing tech available today has rightly transformed how we create, engage and interact, both with audiences and with clients. At SourceCode we are committed to using that technology to increase efficiency, productivity and ROI, but not at the expense of actual human interaction. We will focus on driving growth for our clients through a balance of technology and consumer engagement."
The approach has won the agency some early fans. VP of marketing at dating app Hinge, Olivia Abramowitz, comments, "SourceCode dove right into our business turned around several key press hits reaching our core audience...driving a significant lift in downloads."
Services offered include all aspects of messaging, strategy development and integrated marketing campaign execution. With a focus on insight-driven programs, campaign recommendations will be rooted in driving business growth - not traditional PR metrics.
Co-founder Honeyman elaborates: "The importance of building a team of experts invested in the success of client partnerships is paramount for us. We are passionate about breaking molds to build new solutions, and our recruitment strategy is focused on individuals who share that passion."
Based in New York City, SourceCode has offices in the NoMad area of Manhattan and in Dumbo, Brooklyn, the heart of the Brooklyn Tech Triangle.
About SourceCode Communications
SourceCode Communications is a communications marketing agency launched in 2017 by technology PR industry veterans Greg Mondshein and Rebecca Honeyman. Based in New York, the agency is focused on delivering measurable business impact to brands in 4 major sectors - consumer lifestyle, enterprise technology, mobile and telecommunications and financial technology. For more information, please visit http://www.sourcecodecommunications.com.