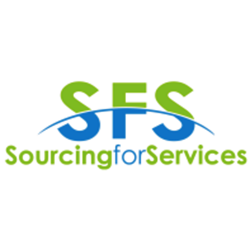 Recognizing the diverse management needs for SOW spend categories, Sourcing for Services, has developed Managed Services Procurement, a new MSP product for SOW to be marketed directly to clients.
GREENVILLE, SC (PRWEB) November 29, 2016
Sourcing for Services, in response to increased demand for a more sustainable, capable and comprehensive statement of work (SOW) spend management solution, announces the launch of its managed services procurement (MSP) product, the industry's first independent, stand-alone service dedicated solely to the full lifecycle management and enterprise-wide governance of SOW spend categories.
Contingent workforce programs (CWPs), the consensus solution for management of high volume temporary staffing, have expanded their scope in recent years to include management of more complex statement of work (SOW) based third party engagements. However, unlike temporary labor, SOW engagements are more diverse, present greater risks to the company and cannot be optimally managed by the same recruiting and administrative skillsets found in traditional CWPs. SOW engagements come in the form of deliverables, milestone-based projects and outsourced or managed services. Statements of work are used by many organizations to engage independent and freelance workers, an increasingly risky endeavor in the current regulatory environment. These unique underlying needs drive the many different segmentations and complexities of managing SOW spend in the typical organization. Sourcing, contracting, independent contractor classification and spend analytics of SOW spend are materially different.
Adding to the complex nature of SOW management is the fact that companies spend up to10 times more on SOW engagements than on temporary labor, making it easy to understand the demand for SOW among owners and key procurement, HR, IT and finance stakeholders seeking a more credible and sustainable SOW management solution.
Recognizing the diverse management needs for SOW spend categories, Sourcing for Services, has developed Managed Services Procurement, a new MSP product for SOW to be marketed directly to clients.
This marks the second year Sourcing for Services has delivered these same SOW management services as a private label offering to its exclusive staffing managed service provider partners.
"The effectiveness and sustainability of our MSP for SOW model has been tried and proven with Fortune 500 and other mid-sized companies" says Ken Hernandez, Sourcing for Services COO.
The Sourcing for Services MSP for SOW is a dedicated program management model that specializes in full lifecycle management of statement of work spend, from active leadership of competitive sourcing events, to commercial terms negotiations and contract development, to category analytics and strategy development.
"If it weren't for our competitive pricing structure, which is fully within the economic context of the current contingent labor program, as well as our unique approach to program funding, we might be better compared to a more traditional procurement BPO (business process outsourcing) provider," says Sourcing for Services CEO, Michael Matherly.
According to Matherly, who leads the company's Sales & Marketing function, selling and delivering MSP for SOW direct to clients is a natural next step in the planned expansion of the SFS business model.
"Our target audience will be mid-large size companies with existing or emerging contingent labor program strategies that need a credible services procurement expansion path," he says.
Hernandez also says that SFS's multi-tiered service delivery model is quite flexible.
"It can be fully integrated with an existing or expanding contingent labor program or it can be deployed independently as a standalone program, regardless of what vendor management system or other procurement technology the client organization is using," Hernandez says.
Hernandez credits this flexible yet customizable delivery capability to the company's team of sourcing consultants and spend analysts who possess 15+ average years of sourcing and procurement practitioner experience.
"Our team of services procurement professionals have seen it all and they are effective in this kind of delivery model, skillfully drawing on their experiences for the benefit of the managers they support," he says.
To learn more about this and other Sourcing for Services products and services, visit the Sourcing for Services website, email Michael Matherly at michael(at)sourcingforservices.com , or call +1 (864) 321-0729.
About Sourcing for Services, LLC:
Sourcing for Services, LLC (SFS) is a strategic sourcing advisory firm and an outsource provider of procurement services. Established in 2014, SFS has been marketing its core SOW management solution exclusively as a private label offering to its staffing managed service provider (MSP) and vendor management system (VMS) partners in the contingent labor industry. SFS also provides procurement consulting, strategic sourcing projects, CPO advisory directly to clients. SFS is currently serving multiple Fortune 500 companies, directly and through its strategic MSP partnerships.
###